How the midterm elections could transform voter access — for better and worse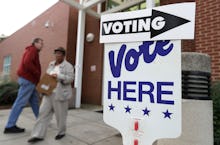 The lead-up to the November midterm elections has been plagued by allegations of voter suppression efforts to keep some voters — particularly voters of color and vulnerable groups — from heading to the polls.
In Georgia, Secretary of State Brian Kemp and other officials have faced a slew of voter suppression lawsuits, as reports have revealed high rates of absentee ballots being rejected and more than 53,000 voter registrations being put on hold due to a restrictive "exact match" policy for voter applications. The suppression efforts have appeared to particularly disenfranchise voters of color as candidate Stacey Abrams battles Kemp to become the country's first black woman governor.
Native Americans residents in North Dakota have also been targeted by a recently upheld law that requires voters to show ID with a valid residential address — which most Native residents living on reservations do not have and tribal IDs typically don't mention. The suppression efforts could particularly impact incumbent Sen. Heidi Heitkamp, a Democrat whose 2012 victory likely relied on the Native vote. Heitkamp is at risk of losing her Senate seat in the midterm election to challenger Kevin Cramer, who has led Heitkamp by 10-16% in recent polls.
Other states have relied on voter intimidation efforts to keep voters of color from heading to the polls, as officials in Texas and North Carolina have ramped up efforts to prosecute alleged acts of voter fraud. In Shelby County, Tennessee, the state's Democratic Party identified voter suppression efforts including voter purges and rejecting voter applications that didn't identify the voter's title as a "Mr.," "Miss" or "Mrs."
As these efforts to suppress the vote play out, however, many of those who can cast a ballot this election will have the opportunity to influence voting access going forward. Ballot measures across the country are asking voters to decide policies that will affect voters' ability to cast a ballot in future elections — both for the better and for worse.
Ballot measures expanding voting access
Residents of Maryland and Nevada will decide this November whether to make it much easier for fellow residents to register to vote. Maryland's Question 2, the Election-Day Voter Registration Amendment, would authorize the state's general assembly to establish a process allowing eligible voters to register in-person at their polling place on Election Day.
The Nevada ballot measure, the Automatic Voter Registration via DMV Initiative, would establish an automatic voter registration program in which Nevadans are automatically registered to vote while receiving certain services at the Department of Motor Vehicles. The initiative, also known as Question 5, would replace a current "opt-in" system in which residents specifically choose to register to vote, rather than opt out of automatic registration.
The most expansive ballot measure for voter access is Michigan's Proposal 3, the Voting Policies in State Constitution Initiative. If it passes, the measure would add eight voting policies to the state's constitution, including automatic voter registration, same-day voter registration, straight-ticket voting and no-excuse absentee voting. The measure would also reduce the deadline to register to vote from 30 days before an election to 14 days if registering in person, or 15 days if registering by mail.
Florida voters will be able to determine this November who's even eligible to cast a ballot in the first place. Amendment 4, the Voting Rights Restoration for Felons Initiative, could restore voting rights to 1.5 million Floridians who have been convicted of a felony — excluding murder and felony sexual offenses — and have completed their sentences, including probation and parole. The measure has the ability to transform the state's politics if it passes, given Florida's status as a swing state whose races have often been decided on narrow margins.
"If it passes, it's changing the entire direction of where Florida was going," Demetrius Jifunza, a Florida resident who was convicted for robbery and founded the Sarasota chapter of the Florida Rights Restoration Coalition, previously told Mic. "I mean, it's going to — you're going to have more players in the process of decision-making."
In addition to the voter access initiatives, several states will also have ballot measures that could give voters a greater voice by combating partisan gerrymandering, which manipulates the boundaries of election districts to particularly favor a certain party. Ballot measures in Colorado, Michigan and Utah would establish independent redistricting commissions to create the states' electoral maps, rather than state lawmakers. A similar measure in Missouri would appoint a nonpartisan state demographer to draw the state's election districts, along with other provisions concerning campaign finance reform and lobbying policies.
Ballot measures restricting voting access
Not all measures would expand voting access, however. Two states are specifically trying to strengthen their voter ID policies, which require voters to show government ID in order to vote. Voter ID policies, which currently exist in some form in 34 states, are criticized for suppressing votes, particularly among voters of color and other vulnerable populations, such as low-income and elderly voters. Proponents claim the policy combats voter fraud — which is already rare and don't have a statistical impact.
Arkansas and North Carolina have ballot measures this November that will enshrine the voter ID requirement in the states' constitutions. Voter ID policies across the country have been subject to lawsuits, and were struck down by the courts in Arkansas and North Carolina. The potential new constitutional amendments could now reinstate the laws and prevent further legal challenges in the states where they're enacted.
The voter ID amendments would allow voters to cast provisional ballots if they cannot show ID, and require the government to provide identification to all voters free of charge.
North Dakota will ask voters to decide on Measure 2, the Citizen Requirement for Voting Amendment Initiative, which would change language in the state Constitution that says "every citizen of the United States, who has attained the age of eighteen years and who is a North Dakota resident, shall be a qualified elector" to "only a citizen of the United States." Proponents claim the measure will prevent non-citizens such as green card holders from voting by making the citizenship requirement more explicit, while opponents say the measure is unnecessary because state law already prohibits non-citizens from casting a ballot.
Montana is taking aim at voting access through a Ballot Collection Measure determining who can collect ballots to submit on behalf of a voter. LR-129 would prohibit anyone from collecting another person's ballot, with exceptions for election officials, postal workers or others authorized to transmit mail, family members, caregivers, household members and individuals known by the voter. Any of the exempted groups, besides election officials and postal service workers, would be prohibited from collecting more than six ballots.
While proponents claim the measure could combat voter fraud, the measure could also suppress votes in Montana, where the Associated Press noted two-thirds of voters cast absentee ballots. Advocacy groups including Forward Montana, Montana Women Vote and Montana Native Vote currently offer to submit voters' ballots for them; the service particularly benefits those who may not be sure of voting policies or rural voters without easy access to the polls, along with students, the elderly, Native American voters and voters with disabilities.
"This bill is about creating barriers where none are needed, or none need to exist, because our system works as it is," Montana state Rep. Bryce Bennett said during a debate on Senate Bill 352, a previous bill that would similarly have prevented ballot submission by others, in the state legislature. "This bill hurts voters."