Israeli model Bar Refaeli's new clothing ad accused of promoting Islamophobia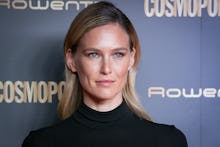 Israeli model Bar Refaeli is embroiled in a controversy over a new ad she stars in that depicts the model removing a niqab and hijab with the tagline "freedom is basic."
The advertisement, which begins by displaying the text "Is Iran here?" in Hebrew, is for the Israeli company Hoodie, which has deleted the post from its Instagram, according to a BuzzFeed news report.
On Sunday, the ad appeared on the front cover of Israel's most circulated daily newspaper before appearing on billboards and television spots, according to the Jerusalem Post.
Refaeli, who was previously criticized for avoiding mandatory service in the Israeli army and arrested for tax evasion, has since deleted the post on her Instagram, but a version (seen above) of the ad remains on YouTube.
According to the Jerusalem Post, Hoodies it intended the campaign to "call out racism and bigotry and support freedom." The paper also cites Refaeli as a part-owner of the company.
The condemnation has been nearly universal. "This is disgusting," wrote speaker Marwa Balkar on Twitter, who pressed companies like Cosmopolitan and Giorgio Armani to stop working with Refaeli.
In a follow-up interview, Balkar shared her initial reaction to seeing the ad, saying she was feeling a mixture of confusion and anger. "The ad is blatantly Islamophobic," she said. "It's disrespectful to Iranians, Bar is endorsing this message, what year is it? This isn't really happening in 2018 right?"
She added: "The worst part is that both the company and Bar have deleted the ad from their pages. That's not enough. You can't release something like that, delete it, and pretend like nothing happened."
Mic has reached out to Refaeli and Hoodies for further comment.