The Obamas might be adapting a book about the Trump administration for their Netflix deal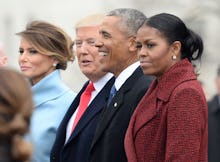 In May, news broke that former President Barack Obama and former first lady Michelle Obama had signed on to a "multiyear production deal" with streaming giant Netflix — and now it seems like we have our first clue as to what kind of content the former first couple will be producing.
Deadline reported Tuesday that the Obamas have acquired the rights to The Fifth Risk, author Michael Lewis' 2018 New York Times best-seller about the incompetence of the Trump administration. That's right — the Obamas' first project with Netflix might be an inside look at all of the mistakes that Barack Obama's successor is making.
According to Deadline, there aren't many details about what the project might look like, but the goal might be a Netflix series "aimed to help people better understand the inner workings of the government." Lewis is expected to officially announce that the Obamas have optioned his new book in an interview on Katie Couric's podcast set to be released on Thursday.
The Fifth Risk is an inside look at the Trump administration's transition into power — specifically the many ways in which things went terribly wrong as it took over leading various federal agencies, according to a Times review of the book.
Anecdotes from Lewis' book include details about how the Trump administration staffed the Department of Agriculture with "a number of decidedly nonagricultural non-experts, including a country club cabana attendant and the owner of a scented-candle company," according to the Times, and how, before the election, former New Jersey Gov. Chris Christie tried desperately to convince the Trump team to come up with a transition plan in case of victory, to no avail.
Lewis, a financial journalist and nonfiction author, is no stranger to onscreen adaptations of his work. His books have inspired a number of films, including Moneyball, The Big Short and The Blind Side. It's not yet clear what form the Obamas' adaptation of The Fifth Risk will take, or whether they will play any onscreen roles. (Their deal with Netflix reportedly involved a commitment to both on-camera and behind-the-scenes work.) But if their first project with Netflix is about the Trump administration's rocky transition, that will likely draw plenty of attention.