Democrats set to win control of the House in midterm wave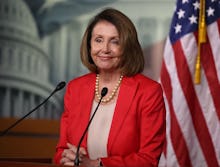 Democrats will take control of the House, riding a midterm wave to push Republicans out of power in the lower chamber for the first time since 2010, and giving the party a major platform to investigate President Donald Trump and his administration ahead of the crucial 2020 presidential election.
By 10:30 p.m. Eastern, Democrats had flipped 12 seats, and were ahead in dozens more, putting them well within reach of the 23-seat pick-up they need for House control. NBC News projected that Democrats would retake the House just after 9 p.m.
A Democratic House victory was almost unfathomable when the cycle began two years ago, as the congressional map was gerrymandered after 2010 to benefit Republicans. Yet Trump's sinking approval numbers among suburban voters, a throng of GOP retirements and Democrats' focus on hammering Republicans for their vote to repeal the Affordable Care Act all worked together to build a blue wave that swept Republicans out of power.
Republicans tried to thwart Democratic momentum in the final days of the race by focusing on fear tactics and blatant racism to energize the GOP base. But that strategy also helped energize Democrats, and turned independent voters against Republicans — helping ensure their ultimate defeat.
Even worse for Republicans is that their once winning focus on fear and racism and tying Democrats to Nancy Pelosi was a flop — a problem for their future electoral strategies.
Democrats' expected win is a major blow to Trump, who will now see his agenda grind to a halt — and could face a slew of investigations that could hurt his re-election prospects.
With control of Congress, Democrats will now turn to electing their congressional leaders.
A number of Democratic candidates have said they would not support Pelosi for speaker, but it's unclear if anyone will run against her — or whether that candidate could win a majority support from elected Democrats.