Steve Bannon announces plans to stump for Dave Brat in Virginia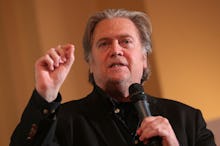 Former White House strategist Steve Bannon has announced plans to campaign for Republican Rep. Dave Brat, who is in the middle of a tight re-election bid in Virginia's tossup 7th Congressional District.
On Tuesday, Bannon told the Washington Post that his campaign plans included a screening of his pro-Trump film, "Trump @War" for Virginians who might still be unsure of whether to or not to vote for Brat — a former economics professor who pulled off a stunning primary upset to unseat then-House Majority Leader Eric Cantor in 2014 — or his Democratic rival, Abigail Spanberger.
"I know how to get the base jacked up, and that's what needs to be done here," Bannon told the Post.
With the Virginia House race one of the closest and most-followed contests in the country, the decision to use Bannon to gin up support appears to be a last-minute Hail Mary for Brat, just days before the election. Formerly the executive chairman of hyperpartisan Bretibart News, Bannon survived seven months in the Trump administration before being ousted, reportedly for bragging to other administration insiders about having the president's ear and publicly contradicting the White House's stance on North Korea.
Even during his brief time in the White House, Bannon is believed to have had an outsized impact on some of Trump's more radical policies, including setting the tempo on some of his nationalist tendencies on immigration and his hawkish foreign policy agenda.
But in the months since his departure, Bannon's star has fallen considerably. On Tuesday, similar efforts to "fire up" the Republicans base reportedly went over like a lead balloon when only 25 people showed up to a Topeka, Kansas, Holiday Inn Express to hear Bannon speak.
With only six days to go until the 2018 midterm elections, recent polls show Brat and Spanberger, a former CIA operative, in a statistical dead heat in Virginia's 7th. Although Trump himself has personally endorsed Brat, it remains to be seen whether or not having the backing of Bannon, Trump's former acolyte, will help or hurt the campaign come Tuesday.