Progressive challenger Alessandra Biaggi defeats Richard Ribustello in New York state Senate race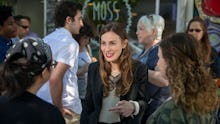 Democrat Alessandra Biaggi defeated Republican challenger Richard Ribustello on Tuesday to become the next representative of New York state Senate District 34.
The Journal News of upstate New York's Lower Hudson Valley called the race shortly before midnight, with Biaggi holding 72% of the vote with 80% of districts reporting.
Biaggi previously worked for New York Gov. Andrew Cuomo and served as deputy national operations director for Hillary Clinton's 2016 presidential campaign. Meanwhile, Ribustello's promotion at New York City's Board of Elections, where he works as a trainer assistant in the Bronx office, resulted in charges of nepotism against his brother, former Sopranos actor Anthony Ribustello, in 2014.
The Senate district, which includes parts of the Bronx and Westchester County, is primarily Democratic; according to state Board of Elections figures cited by the Westchester Journal News, active registered Democrats outnumber Republicans in the district 5:1.
Biaggi's general election win comes after she pulled off a primary upset against Democratic incumbent Jeff Klein, winning 54% of the vote. Klein, who appeared on Tuesday's ballot as an Independent, is the former head of the Independent Democratic Conference, a now-disbanded group of Democrats who caucused with Republicans and blocked progressive legislation such as the Reproductive Health Act. In January, Klein was accused of kissing a former staffer without her consent in 2015.
In an interview with Mic in October, Biaggi said she planned to push a progressive platform, including campaign finance reform, universal health care and passing the Reproductive Health Act, which would preserve abortion rights by codifying Roe v. Wade into law in the state.
"I'm not afraid to call things out for what they are, and I hope to continue to be a voice that speaks truth to power, not in an abstract way but in a very real way," Biaggi said in October. "I think one of the reasons that a lot of people get frustrated by politics is because they find that their elected officials are simply not honest. I don't mean that they're necessarily hiding something, but more that they refuse to answer questions about things that are so blatantly clear, but they avoid being honest because they're afraid."
Biaggi also said she hoped her primary win — and now, her general election victory — would inspire others to challenge establishment candidates.
"I also want to make sure we're encouraging new people to run, and not only getting behind anointed establishment candidates," Biaggi said. "There are so many people in this world who would be excellent leaders, and we need them. We are in desperate need of leaders with authenticity and high integrity. One of the ways we're going to get there is by sharing our story of how we won."