Michael B. Jordan went door to door to get out the black vote in Georgia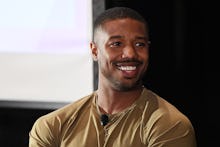 With midterm elections right around the corner, some Georgia voters had a surprise visitor stop by to encourage them to vote — Black Panther star Michael B. Jordan, who went door-knocking to get out the vote for next Tuesday. Jordan teamed up with the Color of Change PAC, the political arm of civil rights advocacy group Color of Change, to help promote its #VotingWhileBLK initiative.
Jordan uploaded a video to Twitter on Wednesday showing some of his door-knocking from earlier in October. Needless to say, everyone in the clip seemed happy to see him.
Georgia is the site of a high-profile and, so far, very close gubernatorial race between Democrat Stacey Abrams and Republican Brian Kemp, who serves as Georgia's secretary of state and who has a history of voter suppression in his own state. If elected, Abrams would be the first black woman governor in U.S. history.
"Georgia is a hotbed for voter suppression rights, as many civil rights groups have recently challenged Secretary of State Brian Kemp and his administration's 'exact match' law," the Color of Change PAC said in a press release Wednesday. "Through this partnership, Michael B. Jordan participated in canvassing black voters' doors in Georgia, surprising voters with a simple message that they are among the most important voters in the country."
Jordan isn't the only one showing up to get out the vote in Georgia. Comedian Will Ferrell canvassed door to door for Abrams, and Oprah Winfrey announced Wednesday she'd be attending two town hall events with Abrams leading up to Election Day.