LaQuan Smith debuts Asos collaboration, complete with sexy plus-size and curve styles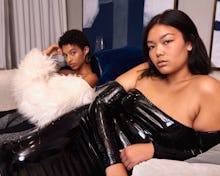 Finally, an affordable high fashion/fast fashion collaboration that's available in plus sizes for women and men. It may not seem revelatory, but if you look at the landscape — like the upcoming H&M x Moschino collab — the new Asos Design x LaQuan Smith collection is blazing a trail.
According to Smith, who has outfitted everyone from Beyoncé to Rihanna to Lady Gaga, the collaboration was organic.
"I met the Asos team in Paris, and we instantly got along," Smith said in an interview, saying the team has been conceptualizing and working on the collection for over a year in preparation for Thursday's launch. "Months later, they proposed the idea of me designing a concept collection with a full range of men's, women's and accessories. How could I turn this down?!"
The collection is notable not just for its plus-size and curve offerings but also for presenting clothes for larger bodies that accentuate their figures. "This is the moment to celebrate women at every shape and every size," he said. "My collections are always inspired by female form and sensuality. Every woman wants to feel beautiful and sexy. It's my job to evoke those emotions through design."
The collection, ranging in price from $35 to $285, includes menswear, womenswear, footwear and accessories, including Smith's signature vertical glitter stripe designs, faux-fur maxi coats, velvet knee-high padded boots and a crystal mesh do-rag.
Check out select looks from the collection below.
You can browse the full collection here.