Antonio Delgado overcomes racist GOP attacks to win in New York's 19th Congressional District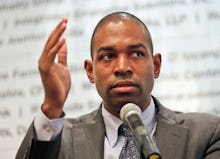 Democrat Antonio Delgado on Tuesday defeated Rep. John Faso (R-N.Y.), earning a decisive victory to represent New York's 19th Congressional District in spite of an onslaught of racist attacks from Republicans.
He was leading Faso, the incumbent Republican, 53.7% to 44.1% when the race was called by CNN just before 11 p.m. Eastern.
Delgado is a former Rhodes scholar and a Harvard-educated attorney. But Republicans have focused on his former rap career in attacks on him that have been widely regarded as racist dog whistles.
Nevertheless, he defeated Faso on Tuesday, unseating the Republican who was elected in 2016.
The district, which covers part of the northern New York City metropolitan area, has been seen as a toss-up, having gone for former President Barack Obama in 2008 and 2012 but swinging to President Donald Trump in 2016.
Trump endorsed Faso in October in a tweet he's used to show his midterm support for other Republicans, writing that the New York congressman has "worked hard and smart."
"Vote for John," Trump tweeted Oct. 23. "He has my complete and total Endorsement!"
Delgado overwhelmingly won the Democratic primary for the congressional seat in June, becoming the first Hispanic and first biracial major-party nominee to compete in the district.
While he was the target of racist campaign ads during the general election campaign, Delgado maintained his focus on kitchen-table issues.
"They really want to talk about health care — they really do," Delgado told the New York Times. "They want to talk about schools, the environment and jobs. Instead of talking about that, we are talking about rap."