These new hotel brands are built specifically for young travelers — and start at $50 a night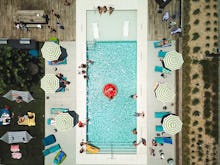 Millennials spend billions of dollars a year on travel. That's a lot of room keys and wanderlust.
And because birds of a feathers flock together — and by birds, we mean young travelers who aren't interested in touristy chains and prefer transformational, authentic and culturally rich experiences — hoteliers and travel innovators are paying close attention.
While some future-forward brands are catching the millennial wave with $99 night-of crash pads and CBD tasting menus, others are reinventing the hotel stay completely. Companies like Life House, which launched Tuesday, the Guild (also new) and Hilton's future brand, Motto, prove the hotel industry is listening. It knows young businesspeople who travel for work — even those with limited budgets — are likely to tack on a few days to make it a vacation. It knows young travelers don't want some mediocre room-service burger; they want the best local chilaquiles. It knows groups of friends prefer smaller sleep spaces to bigger gathering spaces. It knows few people care about turndown service, but everybody wants trendy soap.
Here's what you need to know about the newest hotel brands geared toward the modern millennial traveler.
Life House
The brand
Life House — America's first Silicon Valley-backed hotel — just opened for reservations Tuesday. Its first property is set in Miami's Little Havana neighborhood and will be followed by locations in South Beach, a neighborhood in Miami Beach, Florida; Denver; and Brooklyn, New York. Life House hopes to open 20 hotels in the U.S. by 2020.
Life House properties are small, cheap and chic, with a strong emphasis on local culture and connectivity.
"We are a modern boutique hotel that caters to all, but our target audience is a mature millennial — and what we know is that traveler is looking for a meaningful experience," co-founder Rami Zeidan, a seasoned luxury hotelier who formerly worked on the 1 Hotels and Baccarat Hotel brands, said in a phone interview.
The innovation
Life House is working on its own social media network for guests and locals (who are vetted by management) to connect for activities like dinner parties and surf sessions. There's even an option for Life House "members," who are otherwise strangers, to bunk up together, in what feels like an upscale hostel (think: high-end sheets, Le Labo soap, and daily housekeeping). These re-engineered shared rooms can end up costing about $50/night, with "adult-approved" full-size bunk beds and private bathrooms. In the future, travelers in shared rooms will be able to meet their roommates prior to arrival via the social network.
The takeaway
With $70 million dollars in combined venture capital and real estate capital, Life House can experiment with some interesting things on the operations side to drastically reduce cost, while delivering a boutique hotel experience for a lot less. Like Away luggage or Casper mattresses, they own their entire chain without the help of hospitality middlemen, which significantly cuts down on costs, and the customer reaps many benefits because of it. The shared rooms sound a little risky if you're opting to be matched to a complete stranger, but the price for staying at a hip, clean hotel is almost impossible to beat.
The Guild
The brand
While Life House is particularly conducive to extraverts and socializing, The Guild — a startup based in Austin, Texas, founded by Texans Brian Carrico and Chris Herndon (co-founder of ApartmentList) with Chip Conley, former head of global hospitality at Airbnb as an investor/adviser — is similarly light-hearted, though slightly more serious.
The Guild is a hotel that feels like a homeshare, because the rooms (which range from studios to three bedrooms) are set inside of apartment complexes where residents live full-time. Therefore, the company has a higher standard for how guests conduct themselves, as they don't want to disturb anyone. Guild buildings maintain quiet hours between 10 p.m. to 7 a.m., and it's stated in their guidelines that they don't host bachelor or bachelorette parties.
The owners have been building their flagship hotels in Austin and Dallas over the last two years, and their newest property is in Miami, where they've leased five hotel floors of a 33-floor building. Up next is Denver and Cincinnati.
The innovation
The Guild's mission is for adult guests to enjoy themselves, and get a taste of what it's like to live in the middle of a great, walkable neighborhood while having hotel-like luxuries at the same time, such as 24/7 access to a concierge service with insider intel via text. You want the best BBQ buffet? Done. You want to know the hidden, amazing Thai massage place? Easy.
"We went into it from day one saying, 'how can we rethink hotels in light of what modern travelers expect?'" Carrico said in a phone interview. "Millennials expect brands they align with, in terms of their values, and we're very transparent about our community and our values."
One of those values is a slightly more refined way of life. "We want people opting out of the drunk partying scene," Carrico said. "We do well with group travel because we have gathering spaces, but we don't do bunk beds and we don't want them. All of this is reflected in our design, and who we hire and how we treat the people we hire." Carrico added that they offer each of their employees equity in the company, as well as health benefits and competitive pay.
The takeaway
The Guild sounds like a lovely and sophisticated option for responsible travelers who want solid, local experiences — and a little bit of five-star attention. However, with affordable rates (starting at $150) come sacrifices like no daily housekeeping and a sense that despite the 24/7 text-concierge, you're somewhat on your own (which many people prefer, anyway).
Motto
The brand
Hilton recently announced their 15th brand, Motto, a micro-hotel with an urban vibe in prime international locations. In other words, a cheap, clean and cool enough place to hang your hat in all the areas you want to be in. The first location is in London and will open in 2020, with future projects in San Diego, Boston, Washington, D.C, and more.
The innovation
Motto was created to address the needs of the "connected and confident" traveler by offering affordable, flexible rooms with few frills. Flexible is the key word here, as guests can literally tailor their rooms, or their connecting rooms, to fit their needs. For example, guests can reserve a bunk bed with a queen bed on the bottom and a twin bed above; or a small room with a Murphy bed; or connecting rooms with a conference-like room in between two bedrooms, or even more than two bedrooms. Connecting rooms can serve as work spaces, social hang-outs or kids' play rooms.
While everything is based on availability, Motto will offer a mix-and-match opportunity unlike any other budget-friendly hotel. Rooms might be smaller (average footprint is 163 square feet), but Hilton believes Motto's target demographic isn't spending as much time in the room anyway. With this in mind, they're planning on carving out WeWork-like areas with coffee bars, high tables, and free Wifi for hotel guests or not — encouraging locals to work there, too.
The takeaway
With the option to add a connecting room for work purposes, this is ideal for young business travelers who need to take meetings, arrange desk-sides or set up a co-working environment. Pricing has not been announced yet but Hilton says the rates will be affordable, competitive and easy for split payments, a trend that Airbnb recently implemented into their technology by popular demand.