Deb Haaland wins New Mexico's 1st District, becomes one of first Native American women in Congress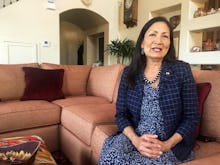 Deb Haaland, former chair of the Democratic Party of New Mexico, is now one of the first Native American women to be elected to Congress after winning the state's 1st Congressional District on Tuesday.
Haaland was leading with 60% of the vote when the Associated Press called the race at 8:34 p.m. Mountain Standard Time.
Haaland, a member of the Laguna Pueblo tribe, decisively defeated former New Mexico House of Representatives member Janice Arnold-Jones, a Republican.
A staunch progressive who worked on former President Barack Obama's 2008 campaign, Haaland will replace Rep. Michelle Lujan Grisham (D-N.M.), who vacated the seat to run for governor of New Mexico.
Lujan Grisham won that race Tuesday over Republican Steve Pearce.
Haaland was one of several Native American candidates to run for election in 2018, including Idaho gubernatorial candidate Paulette Jordan and Hawaii congressional candidate Kaniela Ing. She's now poised to become one of the most progressive members of Congress, supporting a "Medicare-for-all" single-payer health care system, debt-free college and moving the U.S. to a 100% renewable energy system.
She was also the first congressional nominee to call for defunding or abolishing Immigration and Customs Enforcement, the agency that has played a major role in President Donald Trump's extreme immigration crackdown.
Nov. 6, 2018, 11:16 p.m. Eastern: This story has been updated.