Today in Trump's America: Trump reportedly wants to send 15,000 troops to the border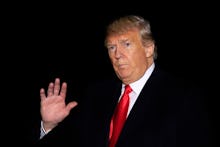 We're five days out from the midterm elections, and Trump's reaction to the migrant caravan is getting more alarmist, as on Wednesday he pledged to send up to 15,000 troops to the border to defend it against a dwindling group of migrants that is currently hundreds of miles away.
For scale, 15,000 is nearly three times as many troops as are currently in Iraq, according to CNN's Jim Sciutto. It's also more than the 14,000 troops we have in Afghanistan and more than seven times as many troops as we have in Syria.
The troops would be protecting the U.S. against people like this 4-year-old girl, who collapsed in tears from exhaustion as she walked north for a better life. She is one of about 2,000 minors in the caravan who hope to claim asylum from the violence in their home countries.
Here's what's happening in Trump's America:
• Trump is out on the campaign trail on Thursday, this time headed to Missouri, where Republicans are trying to pick off Democratic Sen. Claire McCaskill.
Today in Trump's America: Americans blame Trump for the lack of civility in politics, poll finds
A new poll released Thursday found a plurality of Americans place blame on the lack of civility in politics squarely on Trump's shoulders, with 42% saying he's responsible for the political discourse, according to an NBC News/Marist Poll.
The poll comes in the wake of a spate of attempted bombings and a mass shooting in Pittsburgh. Both assailants in these cases were apparently driven by hate.
The alleged attempted bomber was a super fan of Trump and is accused of sending his improvised explosive devices to those Trump has attacked, including Democratic officials and CNN.
The alleged suspect in the mass shooting was an anti-Semite who hated refugees — a group Trump has also repeatedly attacked and targeted during his presidency.
Trump has eschewed taking any responsibility for his rhetoric and has said he makes comments like calling the media the "enemy of the people" because his base wants to hear it. He refused to say his words could inspire someone to seriously hurt a reporter.
"They like me more because of it," Trump told Axios' Jim VandeHei in an interview airing on HBO.
And the rest...
Democrats in position to take the House: A new Washington Post
poll finds Democrats are in a position to win control of the House on Tuesday, with likely voters in battleground districts overwhelmingly held by Republicans giving Democrats a 50% to 46% lead. Democrats' advantage is thanks to college-educated women and minorities, who back Democrats by a wide margin.
Ted Cruz defends congressman under fire for white supremacist comments: Sen. Ted Cruz (R-Texas) called Iowa GOP Rep. Steve King — who is under fire for racist comments — to express his support, according to Bloomberg News' Sahil Kapur. Cruz considers King a friend, and he co-chaired Cruz's failed 2016 presidential campaign. Other Republicans, including the chairman of the National Republican Congressional Committee, have distanced themselves from King and condemned his white supremacist comments.
Dirty tricks: Democrat Abigail Spanberger, a former CIA operative trying to oust GOP Rep. Dave Brat in a suburban Virginia district, says she was the target of a conservative sting operation from right-wing group Project Veritas. The group reportedly sent one of its operatives to masquerade as a volunteer to get dirt on Spanberger's campaign, but her team discovered the mole and expelled her from the office.