Hype Daily: Hugh Jackman says he doesn't talk politics with Ivanka Trump and more entertainment news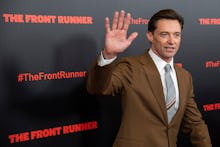 Wow, is it November already? Can you feel that crisp autumn air? Are the leaves starting to fall? Let's cozy up with all the Thursday entertainment news you need to start your month off right.
Hugh Jackman says he's friends with Jared Kushner and Ivanka Trump, but they don't talk politics
Actor Hugh Jackman says he's friends with Trump administration mainstays Ivanka Trump and Jared Kushner (President Donald Trump's daughter and son-in-law, in case you didn't know), but that they don't talk politics. Hmm. Jackman was asked about his friendship with them at the Tuesday night premiere of his new film The Front Runner, which is about Sen. Gary Hart's failed campaign for the presidency in 1987, Variety reported.
Kushner and Trump apparently attended Jackman's recent birthday party. "I've known those guys for 15 years," Jackman said on Tuesday night, according to Variety. "And we don't talk politics at birthday parties." Cool, maybe they just talked about the weather or something.
Oprah is going to Georgia to campaign for Stacey Abrams
Icon Oprah Winfrey (do I even need to say her last name?) is heading to Georgia to stump for Democrat Stacey Abrams in the state's tight race for governor. Abrams is neck and neck with her Republican opponent, Brian Kemp, who has been accused of voter suppression in his current role as Georgia's secretary of state.
If Abrams wins, she would be the first black woman governor in U.S. history. Oprah will reportedly join Abrams for two "town hall-style events" on Thursday, according to the Associated Press. And you can probably bet that she'll draw a crowd.
Check out the trailer for Rebel Wilson's new meta rom-com
The new trailer for comedian Rebel Wilson's upcoming film Isn't It Romantic dropped on Wednesday, and wow, rom-coms are really having a comeback moment.
This new film seems to be more of a meta-parody of the genre. Wilson plays a normal woman who gets bonked on the head and wakes up inside a traditional rom-com with all that entails: giant New York apartment, sassy gay friend, amazing clothes and, of course, romance. Isn't It Romantic comes out on Valentine's Day. Watch the trailer here.
Quvenzhané Wallis will be on Black-ish
Actor Quvenzhané Wallis — who starred in the 2012 film Beasts of the Southern Wild and became the youngest best actress Academy Award nominee in history for her role in the film — will have a recurring guest role on the ABC sitcom Black-ish, Deadline reported on Wednesday. Starting in 2019, Wallis will play Kyra, a young cousin who comes to stay with the Johnson family for a while because her mom can't care for her, according to Deadline.
Put this on your radar: Boy Erased
The new drama Boy Erased hits theaters on Friday. It stars Lucas Hedges as a young man from a conservative Baptist family whose parents (played by Nicole Kidman and Russell Crowe) force him into a conversion therapy program when they learn he's gay. The film is based on the real-life memoir by the same name from author Garrard Conley — check out a trailer for the movie here and read my interview with Conley here.
This has been Hype Daily, Mic's morning entertainment roundup. It's everything you need to catch up on in the entertainment world and what to look forward to today. Want to receive this as a daily email in your inbox? Subscribe here.