The best and most "oh, they really tried that" celebrity Halloween costumes of 2018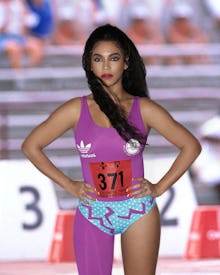 From Beyoncé showing out with spot-on Toni Braxton and Florence Griffith Joyner recreations to Diddy's terrifyingly detailed Pennywise to Sarah Michelle Gellar giving Gwyneth Paltrow a run for her money as Margot Tenenbaum, Halloween 2018, like the year before, did not disappoint in the category of celebrity Halloween costumes.
In perhaps the biggest win of all, problematic costumes of years past (Julianne Hough donning blackface in an attempt at Suzanne "Crazy Eyes" Warren from Orange Is the New Black or Harry Hamlin as a swastika-wearing Sid Vicious) seemed to be eradicated.
Below, we rounded up some of our favorite celebrity looks, including Harry Styles as Elton John and Rita Ora as creepily realistic Post Malone.
Beyoncé as Toni Braxton and Florence Griffith Joyner
Diddy as Pennywise
Sarah Michelle Gellar and Freddie Prinze Jr. as Harley Quinn and the Joker and Margot and Richie Tenenbaum
Jessica Simpson and Eric Johnson as Julius and Vincent Benedict
Heidi Klum as Fiona
Kylie Jenner as Barbie
Lizzo as Ursula
Marc Jacobs and Char Defrancesco as two men in their twilight years
Rito Ora as Post Malone
Harry Styles as Elton John
Tracee Ellis Ross as Nakia
Ryan Seacrest and Mark Consuelos as Sgt. Joseph Getraer and Officer Frank Poncherello
Lupita Nyong'o as Dionne
Kim Kardashian West as Pamela Anderson
Brad Falchuk and Gwyneth Paltrow as Jackson and Ally Maine
Yvonne Orji and Emmanuel Acho as Quincy McCall and Monica Wright