Google employees around the world are walking out to protest a culture of sexual misconduct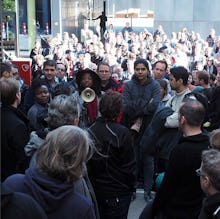 The New York Times revealed in late October that Google's Andy Rubin, a co-founder of Android, was offered $90 million upon leaving the company following an allegation of sexual harassment. A week later, Google employees are staging a walk out to protest the alleged repeated incidents of sexual harassment at the company.
In a pinned tweet on the Google Walkout Twitter account, the company's workers laid out their demands, including an end to forced arbitration in sexual assault cases, assault transparency reports from Google and a new process for reporting assault anonymously.
Additionally, employees are demanding an end to pay inequity and to allow Google's chief diversity officer to make recommendations to the company's board.
Google employees are walking out at 11:10 a.m. local time, so workers in places like Zurich and Dublin have already started leaving their desks in solidarity. In places experiencing bad weather, like London, Google employees have gathered in rooms instead to stop work and show support for those who have dealt with sexual assault at the company. A flyer left at employees' desks explains that they've left in protest of the lack of transparency surrounding sexual assault cases.
A Google employee told the Times, Rubin coerced an another employee to offer him oral sex in a hotel room in 2013. In 2014, the Android co-founder left Google. The company paid Rubin $90 million following his departure, doled out monthly over the course of four years.
The Times report also tells the story of David C. Drummond, who is now the chief legal officer of Google parent company Alphabet. Drummond had an extramarital relationship starting in 2004 with another Google employee, Jennifer Blakely. The two had a son together in 2007. When the two disclosed their relationship to Google, the company's human resources department discouraged the idea that a higher-up would be involved with a subordinate. "One of us would have to leave the legal department," Blakely told the Times. "It was clear it would not be David."