Trump's new xenophobic campaign ad recalls Bush's racist "Willie Horton" ads from 30 years ago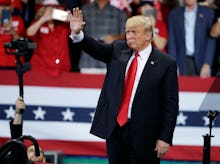 On Wednesday, President Donald Trump managed to condense his anti-immigrant fear-mongering ahead of the Nov. 6 midterms into a single, 51-second advertisement, which even some on the right are immediately decrying as "racist."
The ad, which Trump posted to his Twitter page Wednesday and has since pinned to the top of his timeline, shows footage of undocumented immigrant Luis Bracamontes laughing as he says he killed police officers and promises to kill more. Bracamontes, a twice deported undocumented immigrant, shot and killed two police officers in 2014. He was sentenced to death in April.
Bracamontes "killed our people!" the text of the ad reads. "Democrats let him into our country," the text continues. "Democrats let him stay."
The ad then shows footage of throngs of people knocking down fences, and cuts to Fox News footage of the migrant caravan from Central America that Trump has raged over in recent weeks as he seeks to energize his base before the midterms.
"It is outrageous what the Democrats are doing to our Country," Trump tweeted with the video. "Vote Republican now!"
Trump and the Republicans have spent weeks appealing to the racist, anti-immigrant fears of his base ahead of the election. But this latest ad, which Trump first promoted late Wednesday afternoon, has been called out by some on the right as racist — and has even drawn comparisons to George H.W. Bush's infamous "Willie Horton" ads targeting Democrat Michael Dukakis in 1988.
Horton was serving a life sentence for murder in Massachusetts when he escaped custody after being temporarily released in a weekend furlough program. While out of custody, Horton raped a white woman and stabbed her fiancé.
A pair of Bush ads, one of which was the brainchild of Fox News founder Roger Ailes, depicted Dukakis — then the governor of Massachusetts — presiding over a "revolving door" prison system and giving out "weekend passes" to convicted murderers.
As the Dukakis campaign noted at the time, the ad played on white fears of crime perpetrated by black men. "There is no stronger metaphor for racial hatred in our country than the black man raping the white woman," Susan Estrich, Dukakis' campaign manager, said at the time.
Despite being slammed as racist, the Horton ads are said to have had a significant impact on Dukakis's chances and helped Bush to the presidency.
A number of politicians since then have been accused of launching similar campaigns against their opponents. For instance, Mitt Romney — who hired the team behind the Horton ads in his 2012 campaign against Barack Obama — was accused of playing into similar racial fears in advertisements attacking the president's health care and welfare policies.
The ad Trump is now promoting, though, goes even further in its racial and anti-immigrant fear-mongering, critics say.
The Weekly Standard's Charlie Sykes said the Bracamontes ad "makes Willie Horton look rather tame by comparison." White House reporter April Ryan in a tweet Thursday morning again raised questions about Trump's racism, asking the president "are you racist?" in response to the ad.
On the right, Jamie Weinstein of the conservative National Review tweeted Wednesday that the Bracamontes video was "without question ... a racist ad."
Meanwhile, Sen. Jeff Flake (R-Ariz.), who is known to criticize the president's rhetoric, told CNN's Jake Tapper that the ad represented a "new low in campaigning."
"It's sickening," Flake said.
The Bracamontes video is one of at least two fear-based ad campaigns Trump has promoted on Twitter in recent days. The other plays on Trump's new "Jobs Not Mobs" slogan. Set to dramatic music, it gives voters two choices: an orderly America with a booming economy that Republicans alone can deliver, or the "left's America" beset by chaos.
"VOTE REPUBLICAN NOW!!" Trump tweeted along with the ad on Wednesday.