Today in Trump's America: The midterms are here. These are the seats we predict will flip.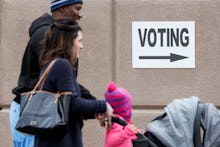 It's Election Day at last, readers!
By this point, you've suffered through two full years of pontificating from prognosticators about what to expect out of the 2018 midterms. Now, you'll have to suffer one day more, but at least this special edition of today's newsletter will ease some of the pain of the speculation, as it features all of my predictions about tonight's results.
Yes, you read that right: I'm laying bare my thoughts of what will happen tonight. I'm putting it in writing so I will look like either a genius or a dunce come Wednesday morning. (I'm sure I'll hear more if it's the latter.)
I'd also love to get your predictions. You can email them to me at TrumpsAmerica@mic.com. Make sure to put your full name and where you're from in the email, and I'll give you a shoutout in Wednesday's edition if you come close.
Tell me your House and Senate seat breakdown — how many seats you think Democrats and Republicans will control in both chambers — and as a tiebreaker, pick the winner in these two races: Kentucky's 6th District (Andy Barr vs. Amy McGrath) and the Texas Senate race (Beto O'Rourke vs. Ted Cruz). I find both of these races to be quite telling of what will happen.
Now, without further ado...
House: Democrats will win control
This is the prediction I feel most confident about.
Democrats need to net 23 seats to win House control, and I predict they will surpass that to pick up 35 seats. I also think Democrats have a better chance of netting more than 35 seats than Republicans do at keeping control of the chamber.
I think Democrats will lose one House seat: Minnesota's 8th District. The district, which former President Barack Obama carried by a 6-point margin in 2012, turned Republican when President Donald Trump carried it by 16 points in 2016. Democratic Rep. Rick Nolan is retiring, and the Republican nominee in this open seat, Pete Stauber, appears to be on track to win.
Pennsylvania also redrew its district maps this cycle, and the 14th District seat, which became much more Republican in the redraw, will be also won by the GOP nominee.
Otherwise, I think Republicans are going to get shellacked.
In an effort to make this easier to digest for you, here are the top 25 GOP-held seats I feel confident will be flipped by the Democrats on Tuesday. With this list alone, Democrats would win the House.
1. Arizona's 2nd District: This seat flipped from one 2012 GOP nominee Mitt Romney carried to one Hillary Clinton carried in 2016. GOP Rep. Martha McSally vacated this seat to run for Senate in Arizona, and the Democratic nominee, former Rep. Ann Kirkpatrick, is on track to flip it.
2. California's 25th District: This exurban Los Angeles seat is one of 23 districts that Clinton carried but Republicans currently hold. It looks like Republican Rep. Steve Knight won't be able to withstand the wave, and is going to lose to Democrat Katie Hill, a nonprofit executive who would also be one of the few openly-LGBTQ members of Congress, identifying as bisexual.
3. California's 39th District: This is another Southern California district that swung heavily toward Democrats in 2016, and where the party is likely to pick up another seat, thanks to GOP Rep. Ed Royce's retirement. I expect the Democratic nominee, Gil Cisneros, to win Tuesday night.
4. California's 48th District: "Putin's favorite congressman" Dana Rohrabacher (R-Calif.) also looks like he's headed for the exits after a 30-year career in Congress. This Orange County-based district looks poised to flip from Red to Blue.
5. California's 49th District: This seat located along the picturesque California coastline between Los Angeles and San Diego is also likely to flip. GOP Rep. Darrell Issa nearly lost it in 2016, when Clinton carried the seat by an 8-point margin. And now that Issa is retiring, Democratic attorney Mike Levin is likely to beat Republican nominee Diane Harkey and pick up another seat for Team Blue.
6. Colorado's 6th District: Republican Rep. Mike Coffman has continually defied the odds in this suburban Denver seat, winning re-election even as Obama and Clinton carried these seats in 2012 and 2016. Yet his time seems to have run out. Republicans cut spending in this district in late September, and Coffman looks like he'll be defeated by Democratic attorney and Iraq War veteran Jason Crow.
7. Florida's 26th District: This Miami-based district is another one that Clinton carried but is held by a Republican, in this case GOP Rep. Carlos Curbelo. He has distanced himself from Trump on issues pertaining to immigration and health care — necessary in this heavily Hispanic and Democratic-leaning seat. Yet in this political environment, it simply looks like too heavy a lift for him to win. I predict Democratic nominee Debbie Mucarsel-Powell will prevail on Tuesday.
8. Florida's 27th District: As soon as GOP Rep. Ileana Ros-Lehtinen announced she was retiring from this Miami-based seat, it looked like Democrats had an all-but-certain pick-up. And while the Republican nominee in this seat, television news reporter Maria Elvira Salazar, has run a good campaign, it's unlikely she will be able to defeat Democratic nominee Donna Shalala, the former Health and Human Services secretary under former President Bill Clinton.
9. Illinois' 6th District: This suburban Chicago seat is yet another one that Clinton carried but is in GOP hands. This year, however, Republican Rep. Pete Roskam has double trouble in holding his seat. Not only is Trump unpopular in the state, but the gubernatorial contest at the top of the ticket could also help sink him, as the Republican Gov. Bruce Rauner is poised to be annihilated by his Democratic opponent. That makes it unlikely Roskam can survive the wave, and that Democrats will pick up yet another seat.
10. Iowa's 1st District: This northeastern Iowa district flipped from one Obama carried in 2012, to one Trump carried in 2016. That helped bolster GOP Rep. Rod Blum to victory. But this year, the pendulum in this district appears to be swinging back to its Democratic roots, and Blum looks poised to lose to his Democratic opponent, state Rep. Abby Finkenauer, who if elected would be one of the youngest women ever elected to the House at just 29.
12. Kansas' 3rd District: This district is indicative of the issues Republicans are having with suburban voters. Located in the Kansas City suburbs, this seat flipped from one Romney carried in 2012 to one Clinton narrowly carried in 2016. Republicans wrote GOP Rep. Kevin Yoder off relatively early in the election cycle, and Democratic nominee Sharice Davids looks poised for victory. Davids would be Kansas' first out gay member of Congress, and the first Native American woman elected to Congress as well.
13. Michigan's 11th District: Trump carried this suburban Detroit House seat in 2016. But the district's GOP Rep. Dave Trott is retiring, creating an opening for Democrats. And Democrat Haley Stevens, a former Treasury Department official in the Obama administration, looks poised to defeat her GOP opponent, Trump's Michigan campaign co-chair Lena Epstein.
14. Minnesota's 2nd District: Trump barely carried this suburban Minneapolis-based district in 2016, and helped the district's current GOP Rep. Jason Lewis squeak out a victory against his Democratic opponent Angie Craig. This year, Lewis and Craig are facing off again, and Lewis — who has been dogged by sexist comments he made when he was a radio show host — looks to be on track for defeat.
15. Minnesota's 3rd District: This suburban Minneapolis district grew more Democratic in 2016, with Clinton carrying it by a 9-point margin. However, GOP Rep. Erik Paulsen was able to survive. This time around, Paulsen faces a well-funded Democratic opponent in Dean Phillips, a businessman and philanthropist, and Paulsen looks headed for a loss.
16. New Jersey's 2nd District: Trump carried this district, which encompasses the entire bottom chunk of the Garden State, including some of its best shore towns. But longtime GOP Rep. Frank LoBiondo is retiring, and Republicans failed to recruit a strong challenger to succeed him. Republicans withdrew their support for GOP nominee Seth Grossman after he was found to have posted racist things on the Internet. Democrats, on the other hand, landed a top recruit in state Sen. Jeff Van Drew. This is an almost certain Democratic pick-up.
17. New Jersey's 3rd District: Health care is a key issue in this district, which runs from the Philadelphia suburbs to the Jersey Shore. And that's a problem for the district's current Rep. Tom MacArthur, who was the author of the GOP's failed 2017 Affordable Care Act repeal bill. MacArthur has taken heat for his shepherding of the legislation, and looks like the underdog against his Democratic opponent Andy Kim, a former official on Obama's National Security Council.
18. New Jersey's 11th District: This seat, located in the New York City suburbs, is another one where Trump's dismal approval from suburban voters will likely sink Republican chances. The district's longtime GOP Rep. Rodney Frelinghuysen is retiring, and the Democratic nominee in this open seat, Navy veteran and prosecutor Mikie Sherrill, is poised for a win. Sherrill is one of a number of Democratic women veterans running in 2018.
19. New York's 19th District: Trump carried this Hudson Valley-based district by 7 points in 2016. But GOP Rep. John Faso struggled in his re-election bid against attorney Antonio Delgado. Republicans have run racist ads against Delgado, pointing to a rap album he made in college as proof he doesn't "fit" the district. But the ads seemed to have the opposite effect, and Delgado looks to be on track for a win.
20. New York's 22nd District: GOP Rep. Claudia Tenney tried to be like Trump, making inflammatory comments about mass shootings and immigration. But that seemed to backfire, even in a district Trump carried by 15 points in 2016. I expect Tenney to lose to her Democratic opponent, state Rep. Anthony Brindisi.
21. Pennsylvania's 5th District: Pennsylvania's House seats were redrawn for the 2018 midterms, after the state Supreme Court ruled that the old district lines were an illegal partisan gerrymander by the GOP. This district, located in the Philadelphia suburbs, was redrawn to be one that Clinton narrowly carried in 2016 to one that she would have carried by 28 points, making it a certain Democratic pick-up.
22. Pennsylvania's 6th District: Also located in the Philadelphia suburbs, this district went from one Clinton carried by a slim one-point margin, to one Clinton would have carried by a 9-point spread. The District's GOP Rep. Ryan Costello ended up retiring rather than run for re-election here, and Democrats are now expected to pick this seat up.
23. Pennsylvania's 7th District: The 7th District, located in and around Allentown, was redrawn from a seat Trump carried by 8 points to one Clinton would have carried by 1. The district's GOP Rep. Charlie Dent — one of the House's few moderate Republicans — is retiring, and the Democratic nominee here, Susan Wild, is likely to defeat Republican Marty Nothstein, an Olympic gold medalist in cycling.
24. Pennsylvania's 17th District: This suburban Pittsburgh district was redrawn, from one Trump carried by 21 points to one Trump carried by 3. Two members of Congress are running against each other here: Democratic Rep. Conor Lamb, who won a special election in March, and GOP Rep. Keith Rothfus. Republicans wrote Rothfus off months ago, and Lamb is expected to cruise to victory.
25. Virginia's 10th District: Located in the Northern Virginia suburbs, the 10th District is another seat that Republicans wrote off months ago. GOP Rep. Barbara Comstock hung on here in 2016, even as Clinton carried the district by 10 points. But this time around, Comstock's fortunes appear to have run out, and I expect her to lose to Democratic state Sen. Jennifer Wexton.
Senate: It'll be a wash, with 51-49 seat GOP control
The Senate gives me more anxiety in terms of predictions. So many races are close, and most vulnerable Democratic incumbents are running on Republican turf.
But as of now, I predict the breakdown of the Senate will not change. I think at the end of the day, Republicans will maintain their 51-49 seat control.
That's because I think Democrats will lose North Dakota senate, where Democratic Sen. Heidi Heitkamp will be bested by GOP Rep. Kevin Cramer. And I think Democratic Sen. Claire McCaskill will lose to Republican state Attorney General Josh Hawley in Missouri.
However, I believe Democrats will pick up Arizona's open Senate seat, with Democratic Rep. Kyrsten Sinema besting GOP Rep. Martha McSally. And I think Democratic Rep. Jacky Rosen will defeat Republican Sen. Dean Heller in Nevada.
I think the rest of the Democratic senators up for re-election — including Indiana's Joe Donnelly, Florida's Bill Nelson, Montana's Jon Tester and West Virginia's Joe Manchin — will win.
I also think Texas GOP Sen. Ted Cruz will defeat Democratic Rep. Beto O'Rourke. And that Democratic Phil Bredesen, the former Democratic governor of Tennessee, will fall to Republican Rep. Marsha Blackburn.