Harvey Weinstein is now accused of sexually assaulting a 16-year-old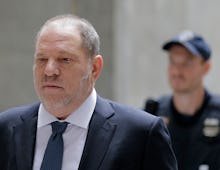 A new lawsuit accuses disgraced Hollywood mogul Harvey Weinstein of sexually assaulting a teenage model in 2002, when she was just 16. According to the Associated Press, the suit, filed in civil court on Wednesday, alleges that Weinstein met the alleged victim, a Polish model identified only as "Jane Doe" in court documents, at an event. Days later, Weinstein allegedly invited her to lunch to speak about her career. Instead of going to lunch, the suit alleges, Weinstein took the victim back to his Soho apartment.
"As Jane Doe rode the elevator with Weinstein, she became nervous," the suit reads, according to Vulture. "When the elevator door opened directly into Weinstein's apartment, Jane Doe realized that they were completely alone."
There, Weinstein allegedly told Jane Doe to take off her clothes, and "aggressively and threateningly" demanded she have sex with him, the Associated Press reported, threatening that she would never work as an actress unless she acquiesced.
"Terrified and struggling to hold back tears, Jane Doe said she would not and resisted his demands," the court filing states. "Jane Doe was a virgin, and had no intention or understanding when she agreed to a business lunch that she would be put in this alarming position."
Vulture reported that, according to the new suit, Weinstein said he had "made" the careers of actresses like Penelope Cruz and Gwyneth Paltrow. (Paltrow has also accused Weinstein of sexual harassment.) According to the suit, "He then took off his pants and forcibly held Jane Doe while taking her hand and making her touch and massage his penis."
According to Vulture, the suit states that Weinstein eventually let Jane Doe leave his apartment after she screamed — but the harassment allegedly continued for years. Per the Associated Press, the suit alleges that Weinstein texted and called the alleged victim and once showed up at her building and tried to access her room, but security didn't let him up. In another encounter in an office, Weinstein "allegedly unzipped his pants and touched his penis," according to the Associated Press. Jane Doe fled the room.
These new allegations are part of a 250-page filing that involves at least 10 plaintiffs, according to the Associated Press. Elizabeth Fegan, an attorney for Jane Doe, said her decision to join the suit was "a brave one given how young she was when Harvey Weinstein attacked her."
This new allegation comes in addition to the criminal charges that Weinstein is facing in New York related to two separate incidents — one in 2006 and one in 2013. Weinstein's lawyer called the new allegations "preposterous," according to the Associated Press. "Eventually, just as others have been exposed to be liars, this uncorroborated allegation that is almost 20 years old will be shown to be patently false," Brafman said.