Food and Politics: Sports bars are the place to watch the midterms; Kids take candy from Trump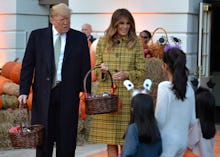 In recent years, the pervasive sports bar, characterized by its high-def TVs, high-top tables and beer towers, has transformed into a venue for watching televised political events — which are sometimes just as divisive and entertaining as sports.
For at least a decade, patrons have cheered on political events like the presidential inaugural address or State of the Union at Ventnor Sports Cafe, a popular sports bar in Washington.
"I've been living in this city for 20 years and I've never seen so many people here as they were for the inauguration for Obama," Scott Auslander, owner of the bar, said over the phone.
But in the wake of the current Trump administration, it seems the once-celebratory events have taken a decidedly solemn turn, according to Auslander.
"For the State of the Union address, we normally have a big drinking game. We had one for Bush [and] for Obama," he said, mentioning that while there were plenty of people, there's been a noticeable shift. "But the one we had in February was a non-event, the first time ever in the many years I've been doing this — it wasn't something people seemed interested in."
This Tuesday, bars across the country are gearing up appropriately for midterm elections, with everything from swing-state-themed snacks at the Bird in D.C. to controversial Trump-inspired cocktails at the Barrel Room in San Francisco. Some bars are even serving coping mechanisms — Washington's Capitol Cider House is offering a detox-yoga class that comes with a post-yoga tasting flight.
Bar professionals, like Ashley Sanders, general manager of Union Pub in Washington say they've been busier since Trump's election, and surveys suggest that Americans are drinking more these days.
Still, with the number of voters between 18 and 29 having surpassed turnout levels from the last midterm election in nearly every state so far, perhaps, one good thing to come out of the Trump administration is a greater social engagement by young people — whether at a poll or sports bar — more determined than ever to have their voices heard.
"There are so many strong opinions around the current president," Sanders said over the phone. "A lot of people are very, very firmly supporting Trump or very, very adamantly [against] everything that's he done so far. And they're just more invested in it emotionally."
In other celebratory events, on Oct. 28, President Donald Trump and first lady Melania Trump celebrated Halloween a few days early by standing in front of the White House with wicker baskets of candy. According to USA Today, the President and First Lady handed out candy, like commemorative Hershey Chocolate Bars and Twizzlers, to kids dressed as SWAT team members and superheroes. According to a press pool report, the couple also emerged from the White House to a rendition of Michael Jackson's "Thriller," played by the Air Force band.
But food and politics don't always mix deliciously. In a statement on Tuesday, Land O' Lakes, makers of butter, announced the company's withdrawal of support for Rep. Steve King (R-Iowa). In March 2017, the Congressman's wrote controversial tweets, sparking accusations of white nationalism and xenophobia. "We can't restore our civilization with somebody else's babies," King originally tweeted. King is currently running for re-election in the state against the first-time Democratic candidate, J.D. Scholten.
According to CNN, Land O'Lakes contributed $2,500 to the Congressman's campaign in late June. "The Land O'Lakes, Inc. PAC has traditionally contributed to lawmakers of both parties that represent the communities where our members and employees live and work and are also on committees that oversee policies that directly impact our farmer owners," Land O'Lakes wrote in its statement. "We take our civic responsibility seriously, want our contributions to be a positive force for good and also seek to ensure that recipients of our contributions uphold our company's values."
In what seemed like a response to Land O'Lakes and other corporate donors like Purina withdrawing support, King wrote: "These attacks are orchestrated by nasty, desperate, and dishonest fake news. Their ultimate goal is to flip the house and impeach Donald Trump," he wrote. "Establishment Never Trumpers are complicit."