Andy Kim and Tom MacArthur go head to head on health care in tense debate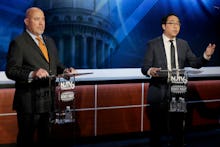 The specter of President Donald Trump loomed large during a matchup between Rep. Tom MacArthur and his Democratic challenger, Andy Kim, in New Jersey's 3rd Congressional District on Wednesday night.
Although Politico reported that MacArthur — one of Trump's staunchest defenders and most enthusiastic congressional allies — was slow to mention the president by name, his ties to the White House's agenda were omnipresent during the Newark, New Jersey, sparring match.
"I work with the president when I can, and when I disagree with him, say so," MacArthur said during the debate, which was aired on NJTV.
Under particular scrutiny was MacArthur's track record on health care, including an amendment the incumbent Republican authored in 2017 that nearly helped the president accomplish his 2017 goal of repealing the Affordable Care Act.
"My concerns are, and the voters' concerns are, my opponent's record on health care, how he gutted pre-existing condition protections," Kim said during one moment in an attempt to steer the debate back toward the issues.
MacArthur was quick to retort. "You continue to say things like that that you know are dishonest," he said. "You know that our bill specifically protected people's pre-existing conditions."
Health care experts have previously noted that the amendment would have allowed states to apply for waivers that would have effectively allowed insurers to charge people with pre-existing conditions exorbitantly higher prices.
At another point during the debate, MacArthur attempted to nail Kim on his supposed support of "Medicare for all."
"The answer is not the 'Medicare for all' that my opponent has adopted," the Republican said. "That will bankrupt Medicare as we know it."
But Kim — who has previously spoken out in favor of "universal health care" — said he had never endorsed the policy proposal officially.
"My opponent tries to take those words and take them out of context," Kim said.
The race between MacArthur, a millionaire and former insurance executive who moved from a wealthy town in northern New Jersey to win the seat in 2014, and Kim, a political newcomer who grew up in the district, is rated a toss-up by RealClearPolitics.
The contentious debate follows a largely acrimonious campaign during which Kim, who is Korean-American, has been the target of racist ads deployed by the GOP in New Jersey.
In one mailer sent out to southern New Jersey voters in September, the words "Something is real fishy about Andy Kim" were emblazoned over a cartoon image of fish in a market in a font that one Democratic spokeswoman told NJ.com was called "Chop Suey" and was commonly used to "visually convey Asian heritage."
In another ad produced by the Paul Ryan-aligned Congressional Leadership Fund super PAC, Kim was explicitly labeled by the GOP as "not one of us."