Who's Sorry This Week? Kim Kardashian West, Shaun White and more public apologies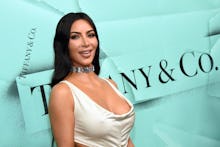 This week wasn't as chock-full of big apologies as last week was, but there were still a few public slip-ups and back-tracking.
In Who's Sorry This Week? Mic tracks down the most prominent mea culpas from celebrities, companies and other public entities trying to make amends for their various screw-ups.
Let's check out the latest batch.
Kim Kardashian West is sorry for using the word "retarded"
Kim Kardashian West is back in our column yet again, this time for using the slur "retarded" in an Instagram video this week. Kardashian West, who dressed as Pamela Anderson at her sister Kendall Jenner's Halloween party on Wednesday night, was captured in a video saying it was "retarded" that no one at the party recognized her costume, according to E! News. The backlash to Kardashian West's use of the slur was quick, and in a statement to E! News, she apologized.
"I want to apologize for what I said in a recent video post that is inappropriate and insensitive to the special needs community," Kardashian West said. "I try to learn from my mistakes, and this is one of those times. Please know that my intention is always pure, and in this case, it was a mistake. I'm sorry."
Shaun White is sorry for his offensive Halloween costume
Olympic snowboarder Shaun White apologized on Monday for an ill-advised Halloween costume that got him called out by the Special Olympics. White posted a since-deleted Instagram of himself dressed as the character "Simple Jack" from the 2008 comedy Tropic Thunder, HuffPost reported on Monday. In case it wasn't obvious from the already offensive name, "Simple Jack" was a sort of caricature of people with intellectual disabilities.
White's costume garnered a response from the Special Olympics, which told HuffPost in a statement, "We are truly disappointed that Shaun White, an acclaimed Olympian, would choose this costume which is so offensive and causes so much pain. Disability is not a joke nor should it be a punchline. We hope that Shaun White and others learn that this just continues stigma, stereotypes and discrimination."
White apparently took down the post, and put up an apology statement on Twitter, saying, "I owe everyone in the Special Olympics community an apology for my poor choice of Halloween costume the other night ... The Special Olympics were right to call me out on it."
A Republican state Senate campaign apologized for anti-Semitic mailers
The state Senate campaign behind Connecticut Republican Ed Charamut apologized on Wednesday for the anti-Semitic imagery it used in fliers attacking Charamut's opponent, state Rep. Matthew Lesser, who is Jewish, the Associated Press reported. The materials, which showed Lesser grinning and holding a handful of money, was quickly called out for its anti-Semitic overtones — which were all the more upsetting considering the Saturday attack at a Pittsburgh synagogue.
The campaign posted an apology message on social media, according to the AP. "The entire campaign committee, which includes members of the Jewish community, never discussed or considered Mr. Lesser's ethnicity, race, religion or any other personal characteristic of Mr. Lesser and it was never our intention for the mailer to be anything more than a reflection of Mr. Lesser's policy record," the statement said. "However, it is clear now that the imagery could be interpreted as anti-Semitic, and for that we deeply apologize as hate speech of any kind does not belong in our society and especially not in our politics." Interestingly enough, there was no message or apology from Charamut directly. Well then.
Candace Owens said she's sorry to Kanye West
Conservative and Twitter pot-stirrer Candace Owens apologized to Kanye West in a blog post on Wednesday, after West tweeted he "never wanted any association with Blexit," Owens' campaign to get black voters to abandon the Democratic Party.
"I never once said that Kanye designed the T-shirts for BLEXIT," Owens wrote. "This is a lie that seems to have made its way around the world; a lie I would like to again correct for the record. Kanye was completely right to feel used in that regard and as I have done personally, I would like to publicly apologize to him for any undue stress or pain the effort to correct that rumor has caused him, his business relationships or his family."
Nice apology — except that Owens had told Fox News that West himself designed the Blexit logo. "Kanye saw my original design, and said, 'I can do it better,'" Owens told Fox News earlier this week. "It certainly was. He redesigned the logo with vibrant colors inspired by his trip to Uganda." Really makes you think, doesn't it?
Swim England is sorry for body-shaming women swimmers
Swim England, the official governing body of English swimming, apologized for an article on its website that advised women to choose swimwear to flatter their shape. According to the Guardian, the article, which has since been taken down, featured advice like "to hide a less loved feature, use a solid color," and "It's important to be honest with yourself or the person you are buying for. It can make a world of difference."
After being publicly called out for the negative article, Swim England pulled the offending content and issued an apology. "We pride ourselves on being inclusive and respectful to all," the organization posted on Twitter Tuesday. "Earlier today it was brought to our attention that one of our old webpages was neither. This does not reflect our values and we took it down immediately. Thanks to everyone who brought this to our attention. #Sorry."