Exploring Breitbart's deep, deep love of Melania Trump's fashion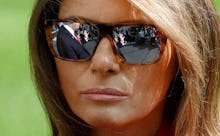 Mic often gets dinged by readers (and bots) for our coverage of all things Melania Trump fashion via our weekly column which identifies every garment the first lady wears. "Who cares?" the comments often read, with many calling the write-ups sexist. Our justification for the column is simple and twofold: What first ladies wear has always been of interest to the public; plus, fashion is a means of communication, especially for a first lady like Trump who says so little.
Conservative website Breitbart also has a column devoted to Trump's fashion, with one key difference from our own coverage: the injection of opinion. It is often as simple as hyperbolic adjectives used to describe a particular garment or a look, but it ultimately serves a larger, subliminal narrative: Despite her silence and inaction in her role, Trump's unwavering ability to look stylish is somehow enough.
Breitbart's column — which never deviates from flagrant affection but sometimes amps up to profound wonderment — is written by reporter John Binder, whose expertise, according to his Twitter profile, is "immigration and fashion."
Breitbart's coverage of Trump's sartorial choices began in May 2017 with the headline "Photos: First lady Melania Trump radiates in high fashion during trip abroad." Binder called the first lady "the breakout star of President Donald Trump's first trip abroad" and said she "stun[ned] fashion industry observers" and "took the world by storm with her style." He also called her "striking," "sultry" and "the image of grace and power."
That was only the beginning.
One day later, Binder penned an article with the headline "G7 fashion: First lady Melania Trump outshines fellow NATO spouses in blossoming ensemble," in which he said Trump was "stealing the show" and noted how other first ladies "couldn't match up."
"Fashion notes," Binder's column dedicated to tracking and fawning over Trump's fashions, formally began June 2, 2017. "Fashion notes: Melania Trump stuns in Dolce & Gabbana for Gorsuch ceremony," Binder wrote.
Trump apparently "dazzled" at a dinner party hosted by Vice President Mike Pence on June 21, 2017. "Melania, unlike her predecessor first lady Michelle Obama, has expensive taste when it comes to fashion," Binder wrote.
"Not since first lady Jacqueline Kennedy have Americans seen a first lady who proudly dons high-fashion ensembles," Binder added.
Obama, in addition to favoring affordable clothing from the likes of J. Crew and Target, wore high-fashion brands throughout her eight years as first lady, among them Gucci, Versace, Givenchy, Thom Browne, Azzedine Alaïa, Jason Wu, Prabal Gurung, Marc Jacobs, Oscar de la Renta, Marchesa, Tom Ford, Rodarte, Alexander Wang, Calvin Klein, Proenza Schouler, Dries Van Noten, Alexander McQueen, Lanvin, Kenzo and Moschino.
For Binder to peddle such easily disproved fiction is a strategy reminiscent of Trump's husband, who also has a knack for perpetuating misinformation. (Mic reached out to Binder for comment, but did not hear back by the time this story was published.)
Binder called Trump "bold" in two separate articles on July 9, 2017. On July 13, 2017, she "stunned." She "stunned" again Sept. 19, 2017; a day later, she was "bold" once more. By Nov. 5, 2017, not much had changed; she was still "bold." But days later, in the opposite of a twist, she "stunned" once again.
Binder likened Trump's White House departure Nov. 13, 2017, to a "runway show." On Nov. 23, 2017, Binder claimed the mere act of the first lady draping her coat over her shoulders made "'coat-slinging' fashionable again." ("Stop draping your coat over your shoulders, you look like an idiot," the New York Post, Donald Trump's preferred paper, wrote in 2015).
On Dec. 13, 2017, she "glowed" during a visit with children of military families. That same day, Binder called her "(arguably) the most fashion-forward first lady in history" in a separate article, his earlier regard for Kennedy having seemingly vanished. The next day she "sparkled."
"All season long, Melania has opted for fashions dipped in rich reds that complement her Eastern European features and tan skin complexion," Binder noted Christmas Day 2017. The Breitbart columnist closed out the year by rounding up the first lady's 10 "most fabulous" looks.
On New Year's Day, Binder hinted his affection for Trump might not extend to her stepdaughter, Ivanka Trump. "'Kim Kardashian goes to the White House' is not an ideal look for a White House trying to trim its reality television roots," he wrote, calling Trump a "glitter queen" and, later, "divine."
She wore yellow Feb. 5, or as Binder wrote, she "[brought sunshine to Ohio." I wish I could do that by wearing yellow when I travel to Ohio.
On March 2, Binder called Trump's suit "ladylike and cut to accentuate the female curves," noting unnecessarily that the look was "not the kind Hillary Clinton often wore." That same day, Binder wrote a piece citing the first lady's presence in Washington, D.C., as the reason why, in his estimation, "The town [had] certainly stepped up its game in the glamour department."
During a visit to Marjory Stoneman Douglas High School in March, weeks after the school witnessed the deaths of 17 of its classmates and staff members, Binder wrote that Trump "looked like she stepped off the runways of Milan."
On March 19, Binder decided to write this sentence: "Mrs. Trump was easily the most fashionable woman in the room (not uncommon for her) during the event on opioids." He called her look to attend a speech addressing the devastation of the ongoing opioid crisis "très chic!"
A few days later, Trump "exemplified girl power" by wearing pink. And for anyone keeping score, yes, she continued to "stun" at various times throughout 2018.
In June, when Trump received nearly unanimous public condemnation for the "I really don't care, do U?" jacket she wore before flying to Texas to visit detained children, Binder found the look "bold."
On July 16, Binder called Trump a "butterfly beauty." A month later she "glowed." On Aug. 27, she didn't just garden, she did it "fabulously."
Readers were greeted with this headline Sept. 11: "Radiant Melania Trump remembers 9/11 in Hervé Pierre dress."
Trump wore black Sept. 26, a choice Binder saw as an homage to New York. Why? "Black in fashion is often associated with New York City's fast-paced lifestyle and is the color of choice for fashion insiders and luxury designers," he wrote.
On Oct. 3, Binder called attention to Trump's "affordable chic" snakeskin loafers, a contradiction to his earlier claim that the first lady has "expensive taste." He made no mention of her much-criticized white pith helmet she wore during a safari trip in Nairobi, Kenya.
All these stories highlight Binder's deep affection for the first lady. But he also seems to equate Trump's "fabulous" fashion choices to her overall persona — that to dress well is to mean well, and to look good is to be good.
This, of course, is yet another lie.