Trump reportedly picking State Department spokesperson Heather Nauert to replace Haley at UN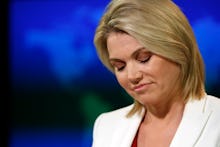 President Donald Trump is expected to select Heather Nauert, the Department of State spokesperson, to replace outgoing U.S. Ambassador to the United Nations. Nikki Haley, according to multiple reports.
Fox News, citing a senior administration official, was apparently the first to report the pick.
Nauert, a former Fox News anchor, has served as the spokesperson for the State Department since 2017. She is expected to take over for Haley, who suddenly announced her resignation from the Trump administration in October.
Haley was in some ways one of the most traditional, drama-free figures in the tumultuous Trump administration. She also took Trump's combative approach to the U.N., withdrawing the United States from the U.N. Human Rights Council and at various points threatening to pull U.S. funding from the U.N. entirely.
Haley is believed to be leaving the administration for the private sector, but has long been rumored to be interested in running for president at some point.
Nauert had been rumored for days to be Trump's top pick to fill the role. Though she lacks diplomatic experience, Nauert is seen as a loyal aide to the president — a quality that Trump seems to prize above all others.