Rashida Tlaib of Michigan becomes one of first Muslim women in Congress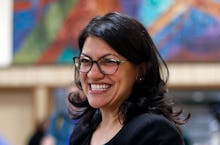 Democrat Rashida Tlaib easily won Michigan's 13th Congressional District on Tuesday, becoming one of the first Muslim women to be elected to the U.S. House of Representatives. She did not have a Republican challenger.
Tlaib will fill the seat vacated by Rep. John Conyers, who resigned in December amid a wave of sexual harassment allegations. Conyers, one of the founding members of the Congressional Black Caucus, had served in the House since 1965.
Tlaib, a former member of the Michigan House of Representatives, is a staunch progressive and member of the Democratic Socialists of America.
She has championed a number of causes of the progressive wing of the Democratic Party, including calls to abolish Immigrations and Customs Enforcement — the government agency that has been a major party of President Donald Trump's immigration crackdown.
No Republican ran against her in the deep blue district, which includes Detroit and some of its suburbs, but candidates representing the Green Party and the Working Class Party also ran.
In winning the election, Tlaib, the daughter of Palestinian immigrants, will become the first Palestinian woman to serve in Congress and could be one of the first two Muslim women to serve in the chamber. The other, Ilhan Omar, is expected to win her Minnesota congressional race Tuesday.
Omar congratulated Tlaib on Tuesday, tweeting that she "cannot wait to serve" with the Michigan Democrat.
Tlaib defeated Detroit City Council President Brenda Jones in the Democratic primary for the seat.
Jones, however, defeated Tlaib in a separate special election primary to decide who will serve out the remainder of Conyers' term. Jones, therefore, will hold the seat until Tlaib's term begins in 2019.
Nov. 6, 2018, 8:58 p.m. Eastern: This story has been updated.