GOP Rep. Steve King melts down at questioner who asked about his white supremacist comments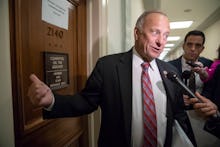 Iowa Republican Rep. Steve King, who has come under fire in recent days for his support of white supremacist movements across the country and racist comments about immigrants and refugees, exploded at a man at a candidate forum on Thursday who asked him to explain how his political worldview differs from that of the mass shooter in Pittsburgh.
"The terrorist who committed this crime, he was quoted as saying, 'They bring invaders in that kill our people, I can't sit back and watch our people get slaughtered.' You, Steve King, has been quoted as saying, 'We can't restore our civilization with other people's babies,' you and the shooter both share an ideology that is ... anti-immigration," the man asked in a calm voice.
That's when King interrupted.
"Do not associate me with that shooter," King angrily responded. "I knew you were an ambusher when you walked in the room, but there is no basis for that and you get no question and you get no answer."
The man continued to press for an answer, but King kept shutting him down.
"You're done. We don't play these games here in Iowa," King said, defending how he stands with Israel and does not want to be associated with the alleged Pittsburgh shooter, whose social media showed him to harbor fervent anti-Semitic and anti-refugee beliefs.
King, for his part, has recently seen groups back away from him after he retweeted a Nazi sympathizer, endorsed a mayoral candidate in Toronto who has said Canada faces a "white genocide" and traveled to Austria to meet with a political party that has ties to the Nazis.
Ohio GOP Rep. Steve Stivers, the chairman of the National Republican Congressional Committee, condemned King's rhetoric.
"Congressman Steve King's recent comments, actions, and retweets are completely inappropriate," Stivers tweeted Tuesday. "We must stand up against white supremacy and hate in all forms, and I strongly condemn this behavior."
But King has long been known for making racist comments.
In 2013, he accused those covered by the Deferred Action for Childhood Arrivals program of being drug mules with "calves the size of cantaloupes" from "hauling 75 pounds of marijuana across the desert." 
And in 2017, he said "culture and demographics are our destiny" and "we can't restore our civilization with somebody else's babies."
King's comments have drawn attention to his re-election bid in the final days leading up to Election Day.
But King represents Iowa's most Republican district. President Donald Trump carried it by 27 points in 2016, making it unlikely to flip — despite King's rhetoric.