Movement Must-Reads: Oprah and more celebrities get out the vote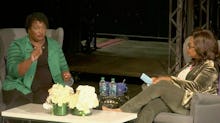 Natelegé Whaley is out this week, so I'm subbing in for her in this week's edition of Movement Must-Reads. In preparation for Tuesday's midterms, this newsletter is full of content and resources that will come in handy before you arrive at the polls. Read on for more.
From Mic:
A gaggle of celebrities have been getting out the vote in the past couple of weeks. Anna Swartz highlights a few stars, including Oprah Winfrey and Michael B. Jordan, who have been doing the legwork to encourage people to head to the polls.
Charlotte West talked to first-time voters about why they're motivated to cast their ballots in Tuesday's midterms. In a survey by the Education Week Research Center, several 18- and 19-year-olds pointed to the Parkland school shooting as a moment of reckoning.
Emily C. Singer rounded up three Democratic lawmakers — including California Rep. Maxine Waters — who we may be seeing a whole lot more of should the Democrats assume control of the House of Representatives.
Chauncey Alcorn has a couple of stories on the Kanye West-Candace Owens-Blexit saga of the week. The rapper said Tuesday he was distancing himself from politics after realizing he had been "used to spread messages I don't believe in." On Wednesday, Owens apologized to Ye and admitted he didn't design the Blexit apparel.
Jennifer Hudson told the forgotten black history of London's Notting Hill neighborhood. "For three decades, it was home to West Indians seeking better lives in Britain," Hudson reported.
From elsewhere:
The New York Times has this cool feature on the faces of change in the midterm elections.
INTO talked to three LGBTQ Salvadorans about why they joined a migrant caravan heading to the U.S. border.
The Movement for Black Lives launched Black November, a voter guide to help black Americans prepare to vote in the midterm elections.
And at New York magazine, former Movement editor Zak Cheney-Rice penned this necessary essay on the killings of two black people at a grocery store in Jeffersontown, Kentucky.
That's all for this week,
Erin E. Evans, editorial director of culture