Taiwanese food is finally having a moment in New York City's crowded restaurant scene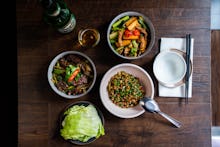 NEW YORK — I moved from Taipei, Taiwan, to New York City in 2005. Which means, despite living in a city that has just about the most diverse food scene in the world, I've been complaining about the lack of good Taiwanese food here for 13 years.
It's not impossible to find — I get asked about Taiwanese food in New York a lot, by both visitors from home who are in town and those who learned about Taiwanese food thanks to Anthony Bourdain's visit to Taipei in 2013. I've satisfied my cravings in a variety of ways: eating a lot of spicy Sichuan food as a replacement; traveling to Flushing, Queens, for a hearty Taiwanese breakfast of fried crullers and soy milk; and ordering delivery from Taiwan Bear House, which specializes in bento boxes with Taiwanese-style fried chicken or braised pork belly.
But something changed during the summer: There was a significant increase in Taiwanese restaurants in New York City in 2018. As far as I can tell, there was no real impetus, aside from the growing popularity of regional Chinese food. As Xian, Yunnan and Hunan cuisines have gotten their own restaurants, it was only a matter of time before Taiwanese food did too.
Ho Foods (dedicated to beef noodle soup), 886 (Taiwanese dishes with an American twist) and the Braised Shop (Taiwanese street food in brick-and-mortar form) are all clustered around St. Mark's Place, a hot spot for Asian food in Manhattan. This new wave of Taiwanese-American entrepreneurs share a background with me — we all grew up traveling between Taiwan and the United States, and have a common goal of wanting to celebrate this cuisine and bring awareness to the island nation that's been battered from an international perspective for so long.
Representing the world of Taiwanese food (or truly, any cuisine) in one restaurant is nearly impossible, given the variety of foods and its vast influences. And that's why three restaurants opening in a short amount of time feels so culturally significant.
"We're all educating the general public about the different types of Taiwanese food," Eric Sze, co-owner and chef at 886, said in a phone interview. "In no way are we competing against each other, because there's so much foot traffic in the East Village. The more people who know about Taiwanese food, the more business we'll receive. And the cultural aspect makes me proud to work long hours and do the dirty work."
What exactly is Taiwanese food?
The first, and most important, question also happens to be the most difficult to explain. The chefs of these new restaurants all agreed — Taiwanese food is hard to describe. And that's been one of the biggest challenges of putting the cuisine on an international stage.
"Taiwanese food is essentially… you take Japanese food, you take all the regional Chinese foods, you throw it into a pot and let it simmer, and fast forward 50, 60 years," Sze said. "It's a marriage between Chinese, Japanese and some aboriginal Taiwanese." Taiwan was under Japanese political rule for 50 years, from 1895 to 1945, and its influence remains.
"Taiwanese food is actually really diverse," Richard Ho, of Ho Foods, said in a phone interview. "We don't eat the same 10 dishes every day. And there's a big focus on freshness of ingredients. There's a certain flavor palate that Taiwanese people like — lots of sticky stuff, QQ things," he added, referring to the chewy texture of everything from fresh noodles to tapioca bubbles in tea, commonly referred to as QQ (or as Amy Qin of the New York Times calls it, the al dente of Taiwan).
Taiwanese food is also sometimes best explained through its signature dishes — ones that have made it across the globe and are now internationally known: bubble tea, beef noodle soup, shaved ice, pork buns and more.
"I don't know how to introduce [Taiwanese food to others] because there are so many kinds of food made from different ingredients and different cooking styles," Kris Kuo, the co-founder and chef of the Braised Shop and Taiwan Bear House, said in a phone interview. "So if I'm going to introduce my friends in New York to it, I would just bring them to authentic Taiwanese restaurants." And that's perhaps why it's so exciting for me that these specialized restaurants have opened within blocks of each other — it's now possible to do a mini food crawl in the East Village and show off three sides of Taiwanese food that have never been so specifically highlighted before.
Ho Foods
The natural place to start a food tour of Taiwan is with its most well-known dish. "The reason I chose beef noodle soup is because I've met Taiwanese people from all over America — Maryland, Boston, Georgia, Arkansas — and when we had beef noodle soup, everyone's palate was so similar," Ho, who opened Ho Foods in January, said. "That was surprising to me. We didn't grow up in Taiwan, we grew up in America. But it's a dish that tied everyone together — and it's one of my favorite dishes."
"Beef noodle soup is a weird dish because there's not a lot of beef in Taiwan," Ho said. The Taiwanese didn't eat much beef until the 1950s. Yet the dish is beloved around the country, with several stores specializing in beef noodle soup, and even a competition declaring the best.
Ho's restaurant focuses on only one dish, and that's because of the amount of time it take to make a good noodle soup. "The beef we use is pasture-raised, grass-fed beef, mostly from Pennsylvania and New Jersey," Ho said. Their stock is a blend of several broths: "There's what you braise your meat in, which is very overly seasoned," Ho said. And then there's a beef stock with marrow bones, oxtail, neck bones, shin, knuckle and ankle. "It's very gelatinous," Ho said. "When it's cold, it's a solid piece of jello." And their spice blend includes star anise, a few different types of peppercorns, cinnamon, clove, cardamom, orange peel, licorice, goji berries and herbal medicinal spices. "I like a bit of medicinal flavor," Ho said.
After some testing, the Ho Foods team also added ru rou fan, a braised pork rice dish, as a side. Ho said his biggest critic is his own mother. "I was worried she would be overly critical," he said. "It's kind of funny because I make things to her palate — I have a similar palate to hers. She had it, and said, 'This is exactly what I like, but maybe you should put some more salt and sugar in here because Americans want sweet, salty food.' And I said, 'Maybe we don't have to do that anymore.'"
886
In July, Andy Chuang, Eric Sze and Stefani Kung opened 886 (named after Taiwan's country code) to serve Taiwanese dishes with an American twist. Their dishes are a mix of street foods — such as stinky tofu, a pork sausage wrapped in rice and oyster omelettes — and also restaurant foods, like fried rice with Taiwanese sausage and Hakka stiry fry.
"I've been in New York for seven years now, and as a young-ish person, we go out and we drink," Sze said. "All my money was being spent at Korean and Japanese restaurants to drink and eat. You have K-Town, you have izakayas, but you don't go to Chinese restaurants to drink, let alone Taiwanese. And that was the main focus for me — this culture is everywhere in Taiwan, and I knew it was a formula that would work."
The team wanted 886 to be a place where the community could gather, drink and socialize. "That's why Andy and I opened 886," Sze said. "We wanted to represent our people. New York really needed a Taiwanese drinking spot, and we could do that."
And while it's easy to think that, at a drinking spot, the food is secondary, this is not the case at 886. One of my favorites was the spicy fried chicken sandwich — a riff off the ones served at fast food chains like McDonald's and KFC in Taiwan, and a food I associate with after-school snacking. And while some have argued that Sze's twists make the food less authentic, the 886 team doesn't see it that way. "Authenticity is a very personal subject — everyone has a different bar for what authenticity should be," Sze said. "For me, authentic food is the food that I relate to home." But despite the criticism, he said the most important thing is that the food is good. "If it's good, let it be. If it's not? That's a whole different story," he said.
The Braised Shop
The Braised Shop is the newest of the trio, having its grand opening in late September. It specializes in "lu wei," or braised foods — a popular street food in Taiwan where meat and vegetables are cooked in a braising liquid. "There are so many street foods in Taiwan that are not seen in New York City," co-founder and chef Kris Kuo said. "I couldn't find anything similar to this kind of food, so I decided to bring it here."
"Once you go to a braised shop in Taiwan or a street food stand at the night market, you always choose what you want out of the display," Kuo said. "You can see the display fridge when you come in to order — that's the same way we order in Taiwan." The Braised Shop's broth is vegetarian and soy-based, and guests can mix and match from proteins, vegetables and tofu and noodles for a filling meal, or choose from pre-set combos that are $12 and $13. And the cooking method is simple — meats and vegetables are braised for about five minutes, then topped with optional condiments like garlic, scallions and chili oil.
Lu wei stalls in Taiwan are a college student go-to in Taiwan — open late at night, fast, filling, healthy and cheap. Kuo, who was born and raised in Taiwan, has fond college memories of eating lu wei at Shi Da Night Market in Taipei. "Every time I went there, I'd buy a bag of food to take back to my dorm." It's those flavors — and memories — that Kuo is aiming to bring to New York, in an area that's typically teeming with college students. "In Taiwan, I won't have lu wei for breakfast or lunch," Kuo said. "It's for dinner or after dinner, or after drinking and hanging out with my friends. That's why we opened in the East Village."
What's next for Taiwanese food?
While Taiwanese food has come incredibly far in New York in just a year, these restaurateurs aren't content to sit back and relax. To double down as a destination for drinking and socializing, 886 launched in October a late-night menu from 10:00 p.m to midnight, with dishes like black pepper poutine and fried tofu. And Ho Foods is moving into Taiwanese breakfast, with a weekend-only menu that includes homemade savory soy milk, scallion pancakes with eggs, rice rolls and more.
And after trying all three of these places, I was thrilled to have finally found a taste of home near me. Will they ever completely satisfy my cravings? Probably not — because nothing will truly replace the act of going home to sit in the same small restaurants on a metal stool, or lining up at the best food stalls, for a cheap, transporting bite of noodles, oyster omelette or scallion pancake wrap. But 13 years later, I'm ready to embrace New York's versions of Taiwanese food — and use them as a primer to convince people to visit for a taste of the real thing.
Nov. 5, 2018, 1:06 p.m.: This story has been updated.