Today in Trump's America: Trump goes full racist in news conference on immigration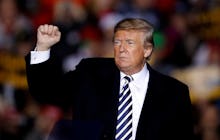 We've made it to Friday, readers.
While political campaigns and their volunteers will spend their weekends working the phones and knocking on doors to get out the vote for Tuesday's midterms, President Trump will be on a final campaign swing, holding rallies in West Virginia, Indiana, Montana, Florida, Georgia and Tennessee.
All of these states were carried by Trump in 2016, and all play host to competitive Senate and gubernatorial contests. The outcome of these races will have a lasting impact on both policy and politics, as these governors will oversee redistricting from the 2020 census.
Here's what's happening in Trump's America:
• Trump has nothing on his public schedule until 2:15 p.m., when he departs the White House to kick off his final weekend campaigning for the 2018 midterms.
About last night: Trump's racism on full display in speech at White House
Trump has turned the volume of his anti-immigrant message up to 10 in the final days of the midterm election, giving what amounted to a campaign rally speech from the White House in which he said a migrant caravan filled with "strong men" were planning an "invasion" of the U.S. He also said that if immigrants throw rocks, border patrol agents and military stationed at the border will treat that as use of a firearm.
The speech was billed as a policy announcement, but no new policy was announced, and that claim seemed more like a ploy to get the media to broadcast the speech on national television. All Trump said is an executive order that will restrict the rules for those seeking asylum at the border — which he already said was in the works — will come "next week."
The speech itself was laden with lies and fear-mongering, with Trump understating the percentage of immigrants who claim asylum that show up to court dates after they are released. He said only 3% show up to court, when in actuality the vast majority show up to their court dates.
"If you don't want America to be overrun by masses of illegal immigrants and massive caravans, you better vote Republican," Trump said.
The speech came after the Trump campaign released a racist closing campaign ad that featured a criminal undocumented immigrant who committed murders in the U.S. — crimes he blamed on Democrats who he said allowed the immigrant back into the country.
Yet the undocumented immigrant, Luis Bracamontes, was actually deported under former President Bill Clinton's administration and returned to the U.S. during former President George W. Bush's administration, according to the Daily Beast.
It's unclear how Trump's rhetoric will impact the election if at all. Republicans fear Trump's rhetoric could hurt vulnerable House Republicans, many of whom are running in educated suburbs, but may actually help in competitive Senate races — which are being waged in states Trump carried by large margins in 2016.
And the rest...
He actually said this: Trump held a campaign rally in Missouri Thursday night in which he lamented the attempted bombings and the mass shooting in Pittsburgh — not because of the number of people who were injured or killed, but because they thwarted Republican "momentum" in the midterms.
"We did have two maniacs stop a momentum that was incredible," Trump said at the rally. "Because for seven days nobody talked about the election, it stopped a tremendous momentum."
Oprah hits the campaign trail: Oprah campaigned for Georgia's Democratic gubernatorial nominee Stacey Abrams on Thursday, telling voters they are "dishonoring" their family and ancestors if they don't exercise their right to vote. The mogul then went out to knock on doors to get out the vote, surprising unwitting Georgians at their homes. The attention Oprah received for her campaign trip seemed to get under Vice President Mike Pence's skin, who at a campaign rally in Georgia said he wanted to "remind Stacey and Oprah and Will Ferrell: I'm kind of a big deal, too."
Streisand effect: If Barbara Streisand taught us anything, it's that trying to censor information you don't want public has the absolute opposite effect. Nebraska GOP Rep. Jeff Fortenberry apparently never learned that lesson. After a professor at the University of Nebraska—Lincoln "liked" a Facebook picture showing one of Fortenberry's campaign lawn signs defaced with googly eyes and his named changed to "Fartenberry," his office reached out to that professor's bosses to complain. The incident only drew attention to the defaced campaign lawn sign that Fortenberry must have found embarrassing.