Trump is preparing sweeping changes to his Cabinet. Here's who could be out after the midterms.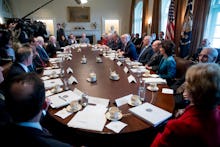 Secretary of the Interior Ryan Zinke may be on his way out of the Trump administration following the midterm elections amid White House concerns that he broke federal laws while in office.
According to the Washington Post this week, probes into Zinke's conduct — including from the Justice department — have increasingly rattled President Donald Trump, who may seek to oust him after Tuesday's election.
"Trump told his aides that he is afraid Zinke has broken rules while serving as the interior secretary and is concerned about the Justice Department referral," the Post reported Thursday.
Zinke is just one of several officials Trump may seek after the midterms to dismiss from his administration, which has already seen a number of high profile shakeups since he took office in January 2017.
Here's who could resign or be terminated after Tuesday:
Jeff Sessions
Attorney General Jeff Sessions has appeared to be a dead man walking for more than a year.
Though he was one of Trump's earliest and most ardent supporters, Sessions drew the president's ire in early 2017 when he recused himself from the Russia probe amid scrutiny of his undisclosed campaign contacts with Moscow.
The move continues to infuriate Trump, who has lamented that he "[doesn't] have an attorney general" and has repeatedly expressed regret at having selected him for the role.
Republicans had initially warned Trump against firing Sessions, as he's frequently appeared poised to do.
But in recent weeks, they've appeared more accepting of the notion. Even Sen. Lindsey Graham (R-S.C.), who once promised "holy hell" if Sessions was terminated, now says that the president is "entitled to an attorney general he has faith in."
"I think there will come a time, sooner rather than later, where it will be time to have a new face and a fresh voice at the Department of Justice," Graham told Bloomberg News in August. "Clearly, Attorney General Sessions doesn't have the confidence of the president."
Rod Rosenstein
Deputy attorney general Rod Rosenstein, who inherited the Russia probe from Sessions, has long been rumored to be on the chopping block, with Trump reportedly considering firing him at various points as a means of kneecapping special counsel Robert Mueller.
Those rumors reached a fever pitch in September when the New York Times reported that Rosenstein in 2017 had proposed secretly recording Trump and recruiting members of his cabinet to invoke the 25th Amendment to declare him unfit for office.
Rosenstein challenged the report, and Trump decided to keep him on.
But it's still possible that the president will look to oust the deputy attorney general, who oversees Mueller and will be responsible for deciding what to do with the special counsel's findings when he releases them after the elections.
Rosenstein's dismissal could be devastating to the independence of the Russia inquiry, as it could result in a Trump loyalist assuming the reins of the probe.
James Mattis
Secretary of Defense James Mattis could also be poised to go.
In an October interview, Trump was asked about Mattis' job security, and suggested that he could be on his way out the door.
"I think he's sort of a Democrat, if you want to know the truth," Trump said.
Considering Trump calls Democrats "evil," that's not exactly a ringing endorsement.
Nevertheless, Mattis has dismissed suggestions that he's being forced out, telling reporters in October that he has the president's support "100%."
A Mattis departure would mark yet another loss of one of the so-called "adults in the room" that have been supposedly protecting the nation and world from Trump's worst impulses.
Rex Tillerson and H.R. McMaster — others who were seen as safeguards against Trump's inexperience and recklessness — have already been replaced by the more Trumpian Mike Pompeo and John Bolton.
Another of the "adults," Nikki Haley, is leaving her post as envoy to the United Nations and is expected to be replaced by Heather Nauert — the State department spokesperson.
Ryan Zinke
Zinke is poised to be ousted from the administration amid scrutiny of a number of possible legal and ethical violations, including his role in a land development deal in his hometown of Whitefish, Montana.
If fired or forced to resign, he would be one of several Trump administration officials to be booted from the Cabinet under similar circumstances.
In September 2017, Health and Human Services Secretary Tom Price resigned in scandal over his apparent misuse of a private jet. Then, in July 2018, Environmental Protection Agency director Scott Pruitt resigned amid a sea of ethics scandals.
Additionally, Wilbur Ross, the commerce secretary, has been accused of abusing his authority. While Ross remains in the administration, Trump has reportedly described him as "past his prime" — suggesting he, too, might be on the way out.