Trump complains GOP momentum faltering after deadly synagogue shooting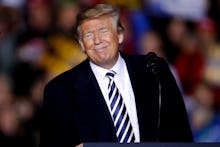 President Donald Trump took a moment out of a campaign rally in Columbia, Missouri, Thursday to acknowledge who he seems to believe to be forgotten victims of the recent deadly synagogue shooting and attempted mail bombings of his political opponents: the Republican Party.
Speaking to supporters, Trump condemned the "disgrace like just happened to our country" — but also complained that the alleged shooter and alleged mail bomber had slowed his party's "incredible" momentum ahead of Tuesday's midterm elections.
"We did have two maniacs stop a momentum that was incredible, because for seven days nobody talked about the elections," Trump said Thursday. "It stopped a tremendous momentum."
Trump's remarks came less than a week after the anti-Semitic attack on Pittsburgh's Tree of Life Synagogue left 11 dead and others wounded. Earlier that week, a fervent Trump supporter allegedly mailed pipe bombs to several of the president's political opponents, including former President Barack Obama and former Democratic presidential candidate Hillary Clinton.
Trump last week drew fire for framing those attempted bombings in starkly political terms ahead of the elections. In a tweet issued just before authorities arrested alleged mail bomber Cesar Sayoc, Trump put the word "bomb" in quotation marks and whined that Republicans' supposed midterm momentum had been hurt by the situation.
"Republicans are doing so well in early voting, and at the polls, and now this 'bomb' stuff happens and the momentum greatly slows — news not talking politics," Trump tweeted Oct. 26. "Very unfortunate, what is going on. Republicans, go out and vote!"
That tweet, and his similar comments at the Missouri campaign rally Thursday, suggest the president is not taking the recent spate of attacks seriously.
In the wake of the shooting and attempted bombings, Trump has faced calls to cool his heated rhetoric toward his political opponents and the media. But he has instead suggested he should "tone ... up" his rhetoric instead, and continued to attack opponents and the media online and at campaign stops.
The administration's policies also seem to support the notion that he's not taking the attack and attempted bombings seriously enough.
On Wednesday, NBC News reported that Trump is not planning to renew a program designed to fight domestic terrorism — even after the Tree of Life attack and the improvised explosive devices sent to Obama, Clinton, CNN and others.
The Obama-era program, which was launched in 2016, provided funding through the Department of Homeland Security to groups combating "violent extremism," including from the far right wing the alleged Pittsburgh synagogue shooter, Robert Bowers, was influenced by.
The Trump administration initially put the grants on hold, but later funded most of them. Now, though, they appear poised to stop funding the program by July 2019, telling grant recipients that funding was a "one-time" opportunity, according to NBC News.
Nov. 2, 2018, 1:31 p.m.: This story has been updated.