This Week in Food and Travel: CBD is more than the next great wellness trend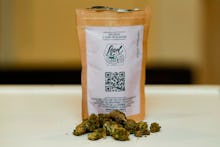 Wellness trends, like SoulCycle classes, homemade face masks and anything Gwyneth Paltrow endorses, may come and go — but the rise of CBD may very well be here to stay. From herbal tonics and sparkling water to intimate massage oil, CBD is the epitome of a millennial paradigm: a need for self-care.
Beyond being super chill on a marijuana derivative this week, Mic explored the history behind one of Hawaii's greatest desserts, checked out hotel brands suited for the modern millennial — which may or may not include a CBD tasting menu — and took a closer look at the little-known black history and racial tensions behind one of London's most colorful neighborhoods.
CBD promises anxiety relief while simultaneously signaling to the world that those who use it are deserving of self-care.
Tourists and locals alike line up in droves for malasadas, deep-fried dough coated in powdered sugar.
Adult-approved bunk beds, 24-hour concierge service via text and an inside line to cool locals are just a few of the amenities from these three new brands.
One walking tour guide is determined to educate visitors about the black history of the area.