The Kardashian-Jenners cast themselves as Victoria's Secret Angels in an at-home runway show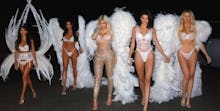 Victoria's Secret made Kim Kardashian West's dream come true when they sent her and her siblings runway looks and real wings to borrow for Halloween night.
Kendall Jenner, Kardashian West noted, got in some good practice in preparation for November's annual Victoria's Secret runway show where Jenner will join a roster of as-of-now entirely straight-size women to walk in the show. It's important to note the Kardashian family, outside of Kendall, would likely have a hard time shopping at Victoria's Secret as the brand does not sell above a size XL (16) or above a DDD bra.
Nonetheless, the tight-knit family decked themselves in VS finest for an intimate at-home runway show, which has been viewed more than 15 million times when you combine the two videos shared by Kim and Kendall. That number will more than likely outpace the actual Victoria's Secret show itself, which last year hit a new low with under 5 million viewers.
"I opened the show," Kourtney Kardashian joked on her Instagram. "Thank you @victoriassecret for making me the first ever 5'1" angel."
Funny, unless you consider the reality that Victoria's Secret has never cast a model shorter than 5'6" (that model was Laetitia Casta, according Bella Petite Magazine).