Snapchat will use Bitmoji, polling maps to convince young people to vote in the midterm elections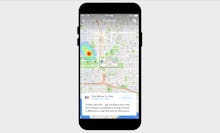 When Snapchat added a register to vote option in its app, more than 400,000 people signed up in a two-week period. Now Snapchat has announced more plans for Nov. 6.
In a press release, Snapchat revealed that it would send video to its users age 18 and over to encourage them to vote during the midterm elections. The maps section of the Snapchat app, in addition to featuring voting-themed Bitmoji, will offer a tool to help users find their polling location.
People who take selfies to send friends will be able to cycle between various filters showing how much time remains until Election Day or to say that they voted.
Snapchat's audience skews young; many of the app's users are 18- to 24-year-olds, with 25- to 34-year-olds not too far behind. Traditionally, millennials and those belonging to Generation Z don't make it out to the polls, and some say that won't change this year.