What Melania wore her 93rd week as first lady, including for her Pittsburgh visit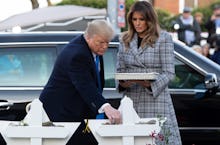 The first lady attended several events this week, including a Halloween event at the White House and a somber visit to Pittsburgh to pay respects to the victims of a deadly shooting at a local synagogue. During their Pittsburgh visit, Melania Trump and her husband were met with large protests by city residents — but let's take a look at what the first lady was wearing during all that.
Sunday, Oct. 28: A Bottega Veneta coat to a Halloween event
On Sunday, the first couple hosted children of military families for trick-or-treating on the the White House's South Lawn, which was totally decked-out for the holiday, according to the Washington Post. While the kids all showed up in costume, the Trumps didn't. Melania Trump wore a yellow, brushed-wool coat by Bottega Veneta that retails for $3,950 and carried a basket of candy, of course.
Tuesday, Oct. 30: A plaid coat in Pittsburgh
On Tuesday, Melania Trump traveled to Pittsburgh along with her husband to visit the Tree of Life Synagogue, the site of a deadly shooting that killed 11 on Saturday. The two were met with massive protests upon their arrival in Pittsburgh — according to one local outlet, "thousands" of people gathered in Pittsburgh's Squirrel Hill neighborhood, where the attack happened, to protest the first couple's arrival.
But the Trumps made it to the Tree of Life Synagogue, where they lit candles to honor Saturday's victims. Melania Trump wore a plaid coat by Off-White, at least according to the Twitter account @WhiteHouse_Fash, which tracks the first family's apparel. And for footwear, Trump went with black stilettos.
And that's all she wore, folks. Tune in next week for more sartorial choices from the first lady.
You can read previous recaps of what Melania Trump wore here.