A local North Carolina race could reinstate an ICE program that targets Latinos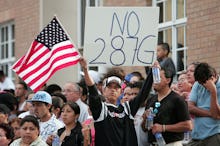 Tuesday's midterm elections could decide the future of the country's immigration policies amid the Democrats' battle for congressional control. In one North Carolina county, however, it may be a local race that decides immigrant residents' immediate fate.
Alamance County, North Carolina, is poised to potentially reinstate a controversial federal immigration program known as 287(g). The program allows state and local law enforcement to partner with Immigration and Customs Enforcement, granting local officials the authority to enforce federal immigration law.
Law enforcement officials participating in 287(g) can interview individuals on their immigration status, look up their information in Homeland Security Department databases, issue immigration detainers to hold individuals and issue a Notice to Appear, a document that begins an immigrant's deportation process, among other actions. ICE currently partners with 78 law enforcement agencies in 20 states to administer the 287(g) program.
The program is no longer in effect in Alamance County, against which the Justice Department filed a lawsuit in 2012 alleging the county, under the direction of Sheriff Terry Johnson, used the program to unlawfully target, stop, detain and arrest Latinos in violation of the Fourth and 14th Amendments. According to the suit, the Justice Department found county police had placed traffic checkpoints primarily in predominantly Latino neighborhoods and had improperly detained individuals for immigration enforcement purposes even after they had posted bond. The department's investigation also found that Alamance County deputies were four to 10 times more likely to stop Latino drivers than non-Latino drivers.
That lawsuit was dismissed in 2015 after a judge ruled the Justice Department "failed to show a pattern or practice of racial profiling against Latinos" in Alamance County. Now, the program could be reinstated — with Johnson once again at the helm.
Despite allegations from the Justice Department that the Alamance County program's "discriminatory activities are intentional and motivated by the sheriff's prejudices against Latinos," Johnson has denied any racist intentions in how he administered the 287(g) program.
"Let me tell you something: Terry Johnson ain't got a racist bone in his body," Johnson said in an interview with Mic when asked if he used racial slurs to describe Latinx people. "Now, if somebody's got something to hide, they better be scared of Terry Johnson, 'cause if they're a criminal, I'm coming after 'em and my people are coming after 'em."
Johnson also denied directing officers to check residents' driver's licenses outside a mobile home community with a predominantly Latino population and reviewing the immigration status of individuals who had not been arrested.
"Some of my friends [who] run restaurants here are Latino and they're here illegally," Johnson said. "I know it. I could care less if they're here illegally, as long as they don't come in here and prey victim on the citizens with other crimes. I can tell you that right now."
The sheriff's claims were later disputed in court by former Alamance County Deputy Jeffrey Randleman, who testified he had been asked to check the immigration status of people who were never arrested. In an interview with Mic, Randleman said he received such requests "more than 10 times — and beyond."
County employees directed by Johnson would give Randleman names to check "if they sounded Hispanic," the former deputy said. Randleman added that he was dismissed from the department after testifying against Johnson.
The 287(g) program's allegedly discriminatory practices appeared to create a climate of fear in the county, where immigrants were afraid to report crimes to law enforcement.
"If you're fearful of being deported, you're going to be less likely to report crimes if you're a victim or if you're a witness," Michael Coon, assistant professor of economics at the University of Tampa, said in an interview. "You might have an actual increase in crime that's going to go unreported and, ironically, it makes communities less safe."
One immigrant, Hercules Tires owner Jose Perez, told Mic his shop had been robbed five times, yet he never reported the crimes to the police.
"The neighbors called once because they saw someone break into my shop," Perez said. "They caught him and an officer told me, 'You have the right to testify in court that he robbed you.' I said to myself, 'How am I going to testify when there's 287(g)? I'm going to end up worse off than the thief.' So I didn't testify."
A resident of the Azalea Mobile Home Park — whose name has been withheld for safety reasons — that officers targeted with driver's license checkpoints on the main road leading to the park's entrance said the checkpoints' presence took a psychological toll on local immigrants.
"It affects us psychologically because you're always thinking worst-case scenario," the resident said in an interview with Mic. "The checkpoints make you afraid to come here or to leave."
The future of 287(g) in Alamance County depends on the midterm elections. While Johnson, a Republican, is running for re-election unopposed, Amy Galey — current chair of the Alamance County Board of Commissioners and a Republican who supports reinstating the program — is also up for re-election. Galey's Democratic opponents in the race, Kristen Powers and Commissioner Robert Byrd, oppose 287(g); Steven Carter, another Republican vying for one of the two seats, supports the program.
In an interview with Mic, Galey said she hadn't looked at the Justice Department's allegations against Johnson very closely because the program was in place "a long time ago," but also said she supported the program because of her own personal relationship with the sheriff.
"I know the sheriff and I know that his commitment to fighting crime is enormous," Galey said. "He loves the people of this county — all of them, no matter what their ethnic or racial origin. With everything that Sheriff Johnson has been through, the risk or the worry that he is going to abuse his power, knowing that the world is going to be watching him to make sure that he does everything correctly, is incredibly minimal."
While the Justice Department, under former President Barack Obama, held Johnson and his department accountable, there's reason to believe the Trump administration will not apply the same level of scrutiny: The administration moved to expand the 287(g) program in an executive order just days after Trump's inauguration. In the order, Trump directed the secretary of Homeland Security to "immediately take appropriate action" to engage with governors and local officials about entering into 287(g) partnerships.
The county's allegedly harsh practices against Latino immigrants under 287(g) are seemingly in line with the Trump administration's broader hard-line immigration agenda, which includes a "zero-tolerance" policy that resulted in the family separation crisis; the construction of a wall at the U.S.-Mexico border; and a potential upcoming executive action that would bar Central American migrants from seeking asylum.
Despite the challenges of living in Alamance County under the Trump administration — and despite the potential return of 287(g) — local resident Edith Santos told Mic she has no regrets about immigrating to the United States. Santos was arrested under 287(g) for driving without a license eight days after arriving in the country. After her arrest, she was asked to sign deportation papers at the county jail, despite the fact she had a visa and had already posted bond. (Santos refused the request.)
"I was seven months pregnant [when arriving to the U.S.], and my daughter was 3 years old," Santos said. "It took me a week to get through the desert, and we didn't eat or drink for three days in the desert in order to get here. And I'd do it again."
Check out episode 36 of Mic Dispatch — only on Facebook Watch.
To catch future episodes of Mic Dispatch, follow Mic Dispatch on Facebook Watch. For more stories about the show, visit the Mic Dispatch collections page.