While You Weren't Looking: 5 stories from the Trump administration that aren't about the caravan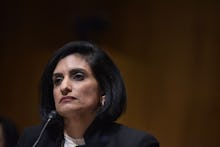 The week of Oct. 26 marked the final stretch before Halloween and midterms, but in Washington, D.C., there seemed to be more tricks than treats to go around.
In an attempt to stir up support from his Republican base in the days leading up to the election, President Donald Trump kicked off a campaign of fear mongering and virulent racism; he called an approaching caravan of some 5,000 stateless migrants hoping to obtain asylum in the United States was an "invasion" during a speech at the White House, and one that potentially justifies sending more than 15,000 troops to the southern border.
And a new attack ad aimed at Democrats released by Trump on Wednesday shows serial cop killer and illegal immigrant Luis Bracamontes, who was sentenced to the death penalty this year for his crimes, accompanied by the text, "Illegal immigrant, Luis Bracamontes, killed our people! Democrats let him into our country ... Democrats let him stay." The ad, which also features footage of the caravan slowly marching through Mexico, was widely criticized for being purposefully racially divisive.
While the president was inciting anger in order to win elections, here are five other stories you might have missed.
Wisconsin's medicaid work requirements officially approved
On Wednesday, Centers for Medicare and Medicaid Services Administrator Seema Verma announced in a memo that she had officially approved Wisconsin Governor Scott Walker's request for increased autonomy over the way Medicaid is implemented in the state — including the ability to institute work requirements for certain recipients.
In granting the request, Verma said that Wisconsin will be permitted to make a "number of locally designed enhancements" to its existing Medicaid program, which currently serves more than 178,000 childless adults in the state.
One of those "enhancements" will be a new "health risk assessment" mechanism, which will "allow the state to collect important information that can be used to help individuals identify their own health risks, reward beneficiaries for proactively avoiding certain health risks and equip health plans with information to better address health needs in a more timely and complete manner."
Although Walker's request to begin drug testing Medicaid recipients was rejected, the new allowances will essentially limit eligibility to four years, unless the beneficiary is working or training for a job.
Seema Verma tweets that T-shirt advocating for Medicare for all is "this year's scariest Halloween costume"
Speaking of Verma: On Wednesday — which was Halloween — the Centers for Medicare and Medicaid Services administrator tweeted out a picture of a T-shirt emblazoned with the words "Medicare for all," and captioned the post, "This year's scariest Halloween costume goes to..."
For Verma, the woman tasked with ensuring that as many Americans as possible are receiving adequate health care, to joke that the idea of all U.S. citizens receiving health coverage is "scary" is, well, pretty scary in itself.
In a statement shared with USA Today Verma addressed the controversial tweet.
"Did I get your attention?" Verma wrote in the statement. "Good. People are right. Medicare for all isn't a joke. It's a multi-trillion drain on the American economy that will bankrupt future generations. It's government-controlled health care that will strip choice away from millions. It's a bad idea. And it is scary."
A probe involving Interior Secretary Ryan Zinke was just referred to the Justice Department
Interior Department Secretary Ryan Zinke is no stranger to scandal: there are currently three ongoing probes into his conduct, and on Wednesday, his department's watchdog, Deputy Inspector General Mary L. Kendall, referred one of them to the Justice Department for further investigation.
The ongoing investigations concern a land development deal in Montana that Zinke oversaw, which was backed by the chairman of Haliburton, and a decision not to grant two tribes approval on plans to open a casino in Connecticut.
Although the Justice Department told the Washington Post that it could not comment on which Zinke-adjacent probe was being escalated, an anonymous senior White House official said that the investigation would concern whether the secretary "used his office to help himself."
Former Trump advisor Roger Stone admits to offering the campaign information on WikiLeaks
In an op-ed penned for the far-right publication the Daily Caller on Thursday, former Trump campaign advisor Roger Stone admitted that he had offered the young campaign information on the document-leaking service WikiLeaks in the early days of the 2016 presidential race.
In emails Stone disclosed between himself and fellow former Trump advisor Steve Bannon dated October 4, 2016, Stone admits to having postured as a backchannel to WikiLeaks for the campaign after the nonprofit published a trove of emails from then-Democratic candidate Hillary Clinton.
"What was that this morning???" Bannon wrote to Stone in the exchange, referring to a touted second batch of emails that had never materialized. Stone replied to say that Julian Assange — the founder of the secretive network — had declined to release the documents out of security concerns, but assures Bannon of "a load every week going forward."
Stone's op-ed preempted an article published by the New York Times on Thursday that suggests that he had attempted to pitch himself to the Trump campaign as a direct connection to WikiLeaks.
Despite international outrage facing Saudi Arabia, Trump administration opts to stand by Crown Prince Mohammed bin Salman
Despite the international backlash still facing Saudi Arabia's government over its shady role in the alleged murder and dismemberment of dissident Saudi journalist Jamal Khashoggi, the Trump administration has quietly decided to stand by the embattled leadership, the New York Times reported on Friday.
According to the report, Trump aids have for weeks been mulling the stigma that will now follow Crown Prince Mohammed bin Salman's tenure and whether or not it will impact his likelihood of succeeding his father, 82-year-old King Salman, in leading the country. But according to the Times, the administration recently concluded that it is unlikely that the crown prince will fall out of favor anytime soon — leaving working with him the most obvious, and practical, course of action.