Ilhan Omar one of first Muslim women — and first Somali-American — elected to Congress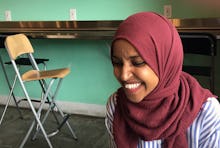 Democrat Ilhan Omar, a former Somali refugee, will become one of the first Muslim women to serve in the United States Congress after defeating Republican Jennifer Zielinski on Tuesday.
Omar was leading with more than 80% of the vote when the Associated Press called the race for Minnesota's 5th Congressional District at 8:33 p.m. Central Tuesday evening.
Omar was one of two Muslim women to win an election in Tuesday's midterms. The other, Democrat Rashida Tlaib, easily won a race for Michigan's 13th District on Tuesday in which she did not have a Republican challenger.
The two were the first Muslim women to be elected to Congress.
Omar, 37, made history in 2017 as the first female Muslim and first Somali-American legislator in the U.S. when she was sworn in as a member of the Minnesota House of Representatives.
In August, she won a crowded primary in the state's deep blue 5th District — an area that covers Minneapolis and some of its suburbs.
"We believe that together — together we can organize around the politics of hope and make sure that not only do we have the America we believe in, but the America we deserve," Omar said at her victory party in August, according to the Star-Tribune.
Omar was born in Somalia fled with her family after the country's civil war broke out in 1991. She arrived in the U.S. in 1995.
Omar is one of a number of young progressive candidates to emerge this election cycle. She will replace Keith Ellison, the deputy chair of the Democratic National Committee, who vacated his 5th district seat to run for Minnesota attorney general.
Ellison had been the first Muslim-American elected to Congress.
Correction: Nov. 6, 2018