Father of slain Parkland student puts bulletproof vest on Fearless Girl statue in New York City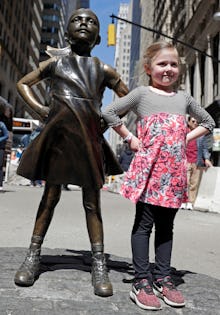 As a protest against gun violence in America, activist Manuel Oliver — who lost his son in February's school shooting in Parkland, Florida — placed a bulletproof vest on the famous Fearless Girl statue that stands in New York City's Financial District.
The bulletproof vest is embroidered with the hashtag #FearfulGirl and a link to Oliver's Change the Ref organization, which "uses urban art and nonviolent creative confrontation to expose the disastrous effects of the mass shooting pandemic," according to the group's mission statement.
"She can't be fearless if she's afraid to go to school," the organization tweeted Friday alongside a photo of the statue.
The vest was on the statue for an hour before it was removed, according to a report in the Hill.
Oliver started Change the Ref after his son, Joaquin Oliver, was killed in a mass shooting at Marjory Stoneman Douglas High School.
Oliver is also the artist behind a 3D-printed statue of his son placed in Times Square to bring attention to the issue of 3D-printed guns.
A number of Parkland students and parents have become activists in the wake of the shooting, advocating for gun control and urging young people to vote in Tuesday's midterm election.