Alec Baldwin arrested in New York after allegedly punching someone in a parking space dispute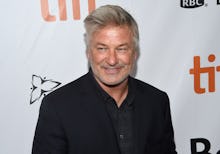 Actor Alec Baldwin was reportedly arrested and taken into custody in New York City on Friday, local outlet NBC 4 reported. Baldwin allegedly punched someone in an altercation over a parking spot, law enforcement sources told the outlet. According to the Hollywood Reporter, the actor will be charged with assault.
Baldwin, 60, has had brushes with the law in the past. in 1996, he was acquitted in a battery case involving a paparazzo, and in 2014 he was arrested for biking the wrong way on Fifth Avenue in New York City and then becoming "belligerent" with the officers who wrote him up, the New York Times reported at the time. That incident reportedly led him to tweet that the city of New York was a "mismanaged carnival of stupidity that is desperate for revenue and anxious to criminalize behavior once thought benign."
There was also the 2011 incident in which Baldwin was kicked off an American Airlines flight because he refused to put away his phone for takeoff. The former 30 Rock star, who is perhaps best known these days for his portrayal of President Donald Trump on Saturday Night Live, also hosts a new talk show that debuted in October.