Ilana Glazer responds after "Kill all Jews" graffiti is found at her event: "They won't stop us"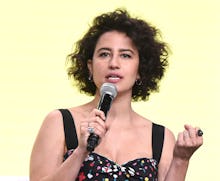 An Ilana Glazer-hosted political event at a Brooklyn, New York City, synagogue was called off Thursday night after anti-Semitic graffiti, including the message "Kill all Jews," was discovered inside the building, the New York Post reported Friday. Now, the Broad City comedian has responded with a message of resilience.
"Last night, we were ready to generate stories and conversations and turn them into action," Glazer said in a statement. "We had beautiful, bright people ready to canvas — knock on doors for the local elections — and help candidates who stand up for human rights win."
"Then, the [Generator Collective] community experienced together how white supremacy, anti-Semitism and racism silences human rights politics and halts progress," she added. "But they won't stop us from communicating, canvassing and voting. We will continue to learn, organize and act and make this country as safe for as many people as possible."
The scheduled event, part of Glazer's Generator Series, was supposed to be a Q&A and interview with journalist Amy Goodman and New York State Senate candidates Jim Gaughran and Andrew Gounardes, the New York Times reported. It was to be held at the Union Temple of Brooklyn in the borough's Prospect Heights neighborhood. But before the event began, Glazer announced it would be canceled following the discovery of anti-Semitic graffiti inside the temple.
In addition to "Kill all Jews," messages included "We are here," "Hitler," "Jew better be ready" and "Die Jew rats," according to the Times. The incident is reportedly being investigated by the NYPD's Hate Crime Task Force.
Gounardes also issued a statement following the event's cancellation, NBC News reported: "Now more than ever, we have an obligation to reaffirm our commitment to tolerance and send a clear message that any individual or group who promotes violence and hate is not welcome in our city."