Mic Daily: Snapchat hopes to increase youth voter turnout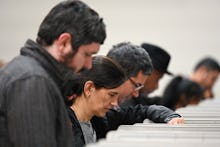 Good evening folks, and happy Friday! Before you head off into the weekend, catch up on the day's news with the five top stories from Mic today.
At a campaign rally in Missouri on Thursday, President Donald Trump took a moment to mourn, in his view, the lesser-known victims of the deadly shooting at a synagogue in Pittsburgh: The Republican Party.
Manuel Oliver lost his son in February's deadly school shooting in Parkland, Florida. As a form of protest against gun violence in America, he outfitted the Fearless Girl statue in New York City's Financial District with a new accessory: A bulletproof vest.
Oliver's Change the Ref organization tweeted a photo of the statue: "She can't be fearless if she's afraid to go to school," the text said.
Snapchat's campaign to get young voters registered ahead of the midterm elections was wildly successful — but now, the challenge lies in actually getting those voters to show up. Snapchat has a plan.
Comedian Ilana Glazer was scheduled to host a political event at a synagogue in Brooklyn, New York, but it was called off after anti-Semitic graffiti was found scrawled inside.
Actor Rebel Wilson, perhaps best known for her role in the Pitch Perfect movies, visited Ellen Degeneres on her talk show to promote a new romantic comedy. While there, she claimed to be the first plus-size woman to star in such a film.
She is not — and people didn't hesitate to let her know.
Mic Daily is Mic's newsletter that cuts through the noise and lands in your inbox every weekday. We carefully curate each edition to send you a cross section of our most vital stories of the day.