Trump lashes out at Maxine Waters days after she was targeted in attempted pipe-bomb attacks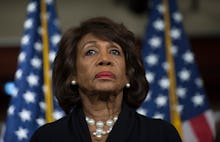 President Donald Trump on Saturday went after Rep. Maxine Waters (D-Calif.), launching a Twitter attack against the outspoken congresswoman just a week after she and other Trump critics were targeted in attempted mail bombings.
"Congresswoman Maxine Waters was called the most Corrupt Member of Congress!" Trump tweeted, referencing Fox News. "If Dems win, she would be put in charge of our Country's finances. The beginning of the end!"
The tweet came about a week after a fervent Trump supporter allegedly mailed improvised explosive devices to a number of the president's political opponents, including former President Barack Obama and former Democratic presidential candidate Hillary Clinton.
One of the bombs was addressed to Waters, but was intercepted at a congressional mail screening facility and was never delivered.
Waters, a fierce critic of the president, has been the subject of a number of attacks from Trump on Twitter and in rallies. He frequently derides her as "crazy" and an "extraordinarily low IQ person."
In his latest broadside, Trump appeared to be referring to a nearly 10 year old scandal in which she faced House Ethics Committee charges for allegedly attempting to set up a meeting between the Treasury department and representatives of OneUnited Bank, in which her husband owned significant stock, to obtain bailout money in 2008.
The charges against Waters were dropped in 2012 when the Ethics committee found she had not violated any House rules.
Nevertheless, as Politifact noted in 2017, the story has resurfaced in conservative corners of the internet as she emerged as one of Trump's most forceful critics in the House.
Trump's latest attack on Waters came just days before the midterm elections. If Democrats retake the House, Waters is likely to become chair of the House Financial Services Committee.
Critics have called on Trump to cool his heated rhetoric toward his political opponents and the media in the wake of October's mail bomb scare, as well as the deadly shooting at a Pittsburgh synagogue Oct. 27.
But Trump has refused to do so, continuing to attack his opponents from the campaign trail and online, and suggesting that he should instead "tone...up" his divisive rhetoric.