Mark Ruffalo: "This is another moment to stand for Standing Rock"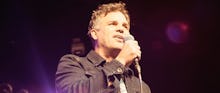 Ahead of Tuesday's midterm elections, actor Mark Ruffalo is mobilizing Native American voters in North Dakota after the U.S. Supreme Court in October upheld a state law that threatens to disenfranchise Native Americans across the state.
North Dakota's newly enacted voter ID law requires voters to present identification at the polls that includes a street address. Critics say the law will disproportionately impact Native Americans across the state living on reservations, who have only a P.O. box on their tribal identification cards.
Ruffalo is an outspoken liberal activist who co-founded a movement called We Stand United after the 2016 elections. He was also outspoken about the Dakota Access oil pipeline and visited the Standing Rock reservation in 2016.
In an exclusive video op-ed for Mic, Ruffalo said, "Here we are today with another kind of assault on the native people."
"This is a much more secret, quiet, insidious assault," he continued. "This is another moment to stand for Standing Rock."
The comments came as Ruffalo spoke to an audience of Native Americans at the Standing Rock reservation in October, during a free Stand-N-Vote concert that featured Dave Matthews and Native American musicians.
"I was honored to accept the invitation of Native American groups in North Dakota to come and amplify their important work to stop voter suppression and get out the powerful vote of indigenous people," Ruffalo told Mic in an interview. "Now is the time when our country needs to listen to their wisdom and voices the most."
In conjunction with the concert, Ruffalo and actress Shailene Woodley also released a video and social campaign with the Stand-N-Vote organization that is designed to help register Native American voters ahead of the midterm elections.