Agriculture Secretary Sonny Perdue calls Florida governor's race "cotton-pickin' important"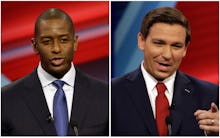 U.S. Secretary of Agriculture Sonny Perdue told voters Saturday night that the contentious Florida gubernatorial election was "cotton-pickin' important," as Democrat Andrew Gillum fights to become the state's first black governor.
"Public policy matters," Perdue said Saturday at a campaign event for Republican candidate Ron DeSantis in Lakeland, Florida. "Leadership matters. And that is why this election is so cotton-pickin' important to the state of Florida. I hope you all don't mess it up."
Perdue is the second Trump-related official to come under fire for using the racially charged phrase; former Trump deputy campaign manager David Bossie was criticized in June for telling a black guest on Fox News he was "out of your cotton-pickin' mind," which host Ed Henry immediately decried as "deeply offensive and wholly inappropriate."
In an email statement to Politico, DeSantis spokesperson Stephen Lawson said "you would have to ask Governor Perdue about any of his remarks."
"We were happy to have him in Polk County campaigning with us," Lawson said.
Perdue's comment Saturday was the latest injection of racist rhetoric into the already contentious gubernatorial race, which is at a dead heat in the polls. DeSantis was criticized less than 24 hours after the primary election for telling voters not to "monkey this up" by electing Gillum, and Gillum has been targeted through multiple racist robocalls in support of DeSantis.
DeSantis "has only continued in the course of his campaign to draw all the attention he can to the color of my skin," Gillum said during the candidates' first gubernatorial debate. "The truth is, I've been black all of my life. So far as I know, I will die black."
During the second gubernatorial debate, DeSantis was criticized for his ties to conservative David Horowitz, who once said "the country's only serious race war is against whites," and GOP megadonor Steven M. Alembik, who has backed DeSantis' campaign and has tweeted racial slurs against former President Barack Obama.
"My grandmother used to say, 'A hit dog will holler,' and it hollered through this room," Gillum said at the second debate. "Mr. DeSantis has got neo-Nazis helping him out in this state, he has spoken at racist conferences, he accepted a contribution — and would not return it — from someone who referred to the former president of the United States as a Muslim n-i-g-g-e-r.
"Now I'm not calling Mr. DeSantis a racist, I'm simply saying the racists believe he's a racist.
Georgia gubernatorial candidate Stacey Abrams was asked about Perdue's comment Sunday on CNN's State of the Union. Abrams is seeking to become the country's first black woman governor and her campaign has faced its own racist rhetoric, including recent racist robocalls against her and Oprah Winfrey, who has campaigned for Abrams.
"I think that there is certainly a throwback element to the language we are hearing coming out of the Republican Party that is unfortunately disparaging to communities," Abrams said Sunday. "It may be unintentional, but it signals a deeper misinformation about what Andrew Gillum can accomplish, what I can accomplish, and what we're going to do is stand on our records and on our plans, and we're going to win these elections."