Georgia's Brian Kemp investigates Democrats as courts reject his voter suppression efforts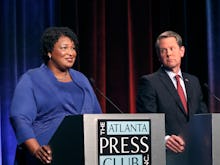 Georgia Secretary of State and Republican gubernatorial candidate Brian Kemp's office announced it opened an investigation Saturday evening against the state's Democratic Party, citing a hacking attempt of the state's voter registration system.
"While we cannot comment on the specifics of an ongoing investigation, I can confirm that the Democratic Party of Georgia is under investigation for possible cyber crimes," press secretary Candice Broce said in a statement. "We can also confirm that no personal data was breached and our system remains secure."
The secretary of state's office said in the statement it had alerted federal authorities about the investigation, including the Department of Homeland Security and the FBI.
The office did not offer specifics about the hacking attempt nor the Democratic Party's alleged ties to the hack. The reported breach comes after Kemp previously refused federal help from the Department of Homeland Security in 2016 to help protect the state's voter registration system against cybersecurity threats.
In a statement quoted by CNN, the Georgia Democratic Party decried Kemp's "scurrilous claims" as "100% false" and said the investigation was "another example of abuse of power" by the secretary of state.
"This political stunt from Kemp just days before the election is yet another example of why he cannot be trusted and should not be overseeing an election in which he is also a candidate for governor," Rebecca DeHart, executive director of the Democratic Party of Georgia, said in a statement.
Kemp's investigation comes as he faces a series of court defeats concerning policies that result in potential voter suppression. Kemp has pushed a series of voter suppression efforts as he battles opponent Stacey Abrams — who is seeking to become the country's first black woman governor — which prompted a wave of legal challenges that have so far not come out in Kemp's favor.
A federal court in Georgia ruled Friday that the state must change its processes for naturalized citizens who have been incorrectly flagged by state databases as noncitizens when registering to vote. While the over 3,000 individuals affected by the change previously would have had to show proof of citizenship to a deputy registrar on Election Day — who are not present at all polling locations, putting a burden on voters — they will now be able to have their citizenship proof verified by poll workers at every polling place.
The citizen voting ruling came days after a federal court also struck down a policy concerning Georgia's absentee ballots, which were previously automatically rejected in cases where a voter's signature on a ballot did not exactly match the signature the state had on file. The ruling will now make it easier for voters to be alerted to any issues on their ballot and verify their identities in time to have their vote counted.
A federal appeals court then upheld the absentee ballot ruling Friday, after Kemp's office asked the court to stay the ruling before the election.
When asked Sunday on CNN about Kemp's investigation on CNN, Abrams characterized it as an attempt to distract voters from the recent court rulings.
"I've heard nothing about [the investigation], and my reaction would be that this is a desperate attempt on the part of my opponent to distract people from the fact that two different federal judges found him derelict in his duties and have forced him to accept absentee ballots to be counted and those who are being held captive by the exact match system to be allowed to vote," Abrams said Sunday.
"[Kemp] is desperate to turn the conversation away from his failures, from his refusal to honor his commitments and from the fact that he's part of a nationwide system of voter suppression that will not work in this election because we're going to outwork him, we're going to out vote him and we're going to win," Abrams continued.
In a separate interview Sunday on Meet the Press, Abrams said she remained confident her race would still be a fair election despite Kemp's suppression efforts — which she suggested could even be helpful for voter turnout.
"We've seen unprecedented voter turnout in this race from people who usually do not engage and do not vote," Abrams said. "Some of that has been driven by the conversations of voter suppression because one of the best ways to encourage people to use something is to tell them that someone's trying to take it away."