This Week in Politics: Midterm elections finally arrive before Trump and Putin have Paris meeting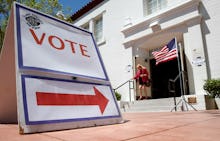 After months of campaigning and speculation, the midterm elections will finally take place Tuesday, deciding hundreds of races across the country and the nation's political fate.
Tuesday's results could help to reshape congressional politics, as Democrats across the country fight to gain power in Congress and provide a check on the policies of the Trump administration. There are high-stakes races at the state and local level, as candidates battle it out in contentious gubernatorial races and local candidates stand to shape influential policies.
President Donald Trump will start out the week wrapping up months of campaigning with trips to several states ahead of Tuesday. By the end of the week, he will be in Paris — meeting with Russian President Vladimir Putin.
Here's what to expect from the political world in the week ahead.
Midterm elections: Voters will head to the polls Tuesday to cast their ballots in the midterms. Early voting has shown unusually high voter turnout, including among young voters. In Texas, a high-stakes Senate battle between incumbent Sen. Ted Cruz and Rep. Beto O'Rourke has inspired a particularly huge turnout so far; in the 30 counties where 78% of Texas residents live, there have already been more ballots cast in early voting than in the entirety of the 2014 midterms.
The Texas battle is one of several key Senate races to watch, as Democrats fight for other opportunities to pick up Senate seats in Arizona and Nevada. Some Senate Democrats will be fighting to hold onto their seats, including Missouri Sen. Claire McCaskill, North Dakota Sen. Heidi Heitkamp and Indiana Sen. Joe Donnelly. In Florida, incumbent Sen. Bill Nelson is fighting for re-election and is in a dead heat with Florida Gov. Rick Scott in the polls.
Democrats will also have a chance to pick up a number of seats in the House — and possibly win the majority. The election will also be a referendums on Republicans in the age of Trump: Claudia Tenney, a Trump ally with a history of controversial comments, is up for re-election in New York, while California races include re-election battles for Reps. Devin Nunes and Dana Rohrabacher, who was once dubbed "Putin's favorite congressman."
The election could also help to diversify the House: Gina Ortiz Jones is fighting in Texas' 23rd District to become the first Filipina-American congresswoman; New Jersey candidate Andy Kim is one of four candidates who could become the first Korean-American congressman since 1999; and New Mexico's Deb Haaland and Kansas' Sharice Davids could become the first Native American congresswomen. Candidates Ilhan Omar and Rashida Tlaib, who is running unopposed in Michigan, could become the first Muslim women elected to Congress, and Omar the first Somali-American.
History could be made at the gubernatorial level as well, as Stacey Abrams battles Georgia Secretary of State Brian Kemp — and the voter suppression efforts his office has pushed — to become the country's first black woman governor. Andrew Gillum could also become Florida's first black governor if elected Tuesday. Other gubernatorial races to watch include contentious races in Illinois, Ohio and Kansas, where Trump ally Kris Kobach — known as one of the country's foremost crusaders against the largely nonexistent issue of voter fraud — is running for governor.
The midterms will also include a number of important ballot measures: Florida's Amendment 4 could restore voting rights to 1.5 million Floridians convicted of felonies who have completed their sentences, and other measures across the country could both expand or restrict voting access. Local races could also have a major impact; a board of commissioners race in Alamance County, North Carolina, for instance, could reinstate a partnership with the U.S. Immigration Customs and Enforcement that the Obama-era Department of Justice said "unlawfully targets Latinos."
Trump's agenda: Trump will be on the campaign trail Monday in support of Republican candidates, with planned rallies in Cleveland, Ohio; Fort Wayne, Indiana; and Cape Girardeau, Missouri.
He will then travel to Paris later in the week, where he'll participate in a Nov. 11 event commemorating the 100th anniversary of the armistice that ended World War I. Trump previously traveled to Paris in July 2017, where he met with French President Emmanuel Macron and attended the country's Bastille Day celebrations.
Trump will also meet with Putin while he's in Paris on Nov. 11, after a previous July summit with the Russian president that was widely criticized. According to CNN, the Kremlin is expecting "a long and thorough meeting," which will likely focus on Trump's recent decision to withdraw from the Intermediate-Range Nuclear Forces Treaty.
U.S. Supreme Court: The Supreme Court is back in session this week, when it'll hear cases on such topics as federal jurisdiction of Alaskan land, uranium mining, execution policies and how to legally serve a complaint against the government of the Republic of Sudan.
Recently appointed Justice Brett Kavanaugh will have his official investiture ceremony Thursday, a special ceremony during which Kavanaugh will again take the Judicial and Constitutional Oaths.
The court announced Kavanaugh will not take a traditional walk down the steps of the U.S. Supreme Court building with Chief Justice John Roberts after the ceremony, as many other justices have previously done.
Kavanaugh's confirmation was marred by a wave of sexual misconduct allegations and other controversies, prompting Supreme Court spokesperson Kathleen Arberg to announce that Kavanaugh would not take part in the tradition "out of an abundance of caution due to security concerns." Lawyers for professor Christine Blasey Ford, Kavanaugh's primary accuser, said after his confirmation that Ford is still receiving "unending" death threats and will not be able to return to her home for "quite some time."