Today in Trump's America: Brian Kemp faces abuse of power allegations after "hack" accusation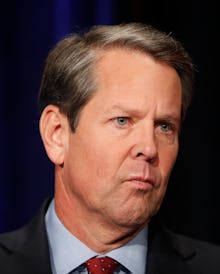 We're almost to the finish line, readers. Tomorrow, mercifully, is Election Day — the culmination of a two-year marathon that has excited voters nationwide and on both sides of the aisle.
Look out in your inbox for tomorrow's newsletter, a very special edition in which I'll lay out my House and Senate predictions. I invite you to send me your picks as well, and I'll give those who come closest a shoutout in a newsletter later this week.
For now, I created this list of races to watch early on election night to determine whether the election was a blue tsunami, a blue wave, a small ripple or a wash.
Here's what's happening in Trump's America:
• It's Trump's final day of campaigning ahead of Tuesday's elections, as he heads to Ohio, Indiana and Missouri to get out the vote for Republicans in key senatorial and gubernatorial contests in those states.
About the weekend: Without evidence, Georgia's Brian Kemp says Democrats "hacked" voter files
For weeks, Georgia Secretary of State Brian Kemp has faced calls to resign from his role, as it allows him to oversee the competitive gubernatorial election in which he is running.
Kemp refused, and just three days before the election he launched an evidence-free claim that state Democrats hacked voter registration files in the state and he is going to investigate.
Kemp's announcement comes as he faces multiple accusations of voter suppression, both by purging the voter rolls and using an "exact match" standard for voter registrations that a federal judge ruled had to be amended because it raised "grave concerns for the Court about the differential treatment inflicted on a group of individuals who are predominantly minorities."
Democrats in the state called Kemp's investigation a stunt.
"This political stunt from Kemp just days before the election is yet another example of why he cannot be trusted and should not be overseeing an election in which he is also a candidate for governor," Rebecca DeHart, executive director of the Democratic Party of Georgia, said in a statement.
Georgia's race for governor is extremely close, with polls showing Kemp has a slight lead over Democrat Stacey Abrams. Trump campaigned for Kemp in the state over the weekend, while Abrams got a boost from media mogul Oprah Winfrey and former President Barack Obama.
Today in Trump's America: Expectation setting ahead of Tuesday's vote
One of the few constants ahead of any election is the expectation setting from strategists on both sides of the aisle, who engage in an effort to shape the narrative of how the election's outcome gets covered. But here is the unvarnished truth: Trump is responsible for whatever outcome is seen.
The president will almost certainly refuse to take any responsibility for a negative outcome for his party. But if Republicans lose the House, they can thank Trump and voter dissatisfaction with his leadership for their drubbing. Polls show Trump is a major factor in voters' choice, and they also indicate a plurality of voters say their vote will be in opposition to Trump.
As for the Senate, Republicans are trying to spin the idea that keeping their Senate majority is a "split decision" and a reason to celebrate for the GOP.
But the margin of seats they win will be important in determining how much celebrating the GOP should do. If Republicans maintain the status quo of a 51 to 49 majority or gain just one seat, that's an awful result for a party that had a massive structural advantage in the crop of seats that were up for grabs this cycle.
Democrats were defending 10 incumbent senators in states Trump carried in 2016 — some of them by double-digit margins. If Republicans can't pick up those seats, that's a poor outcome for their party.
And the rest...
Racist ad: CNN refused to air the Trump campaign's closing midterm ad about the migrant caravan, saying it was too racist to air. NBC, on the other hand, aired it during Sunday Night Football, which has a massive audience.