Hype Daily: Ariana Grande dropped a breakup anthem all about her exes and more entertainment news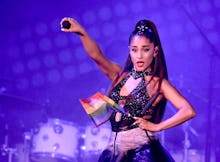 Good morning, Hype Daily readers, hope everyone successfully adjusted their clocks over the weekend. Let's check in on the entertainment news you missed while you were busy getting acclimated to our new winter schedule.
Ariana Grande dropped a new song about all of her exes (including Pete Davidson)
On Saturday, just before ex-fiance Pete Davidson's show Saturday Night Live aired, Ariana Grande dropped a bubbly breakup anthem to end all breakup anthems. Her surprise new song, "Thank U, Next," is all about moving on from failed relationships, and it mentions her exes by name.
"Thought I'd end up with Sean/ But he wasn't a match/ Wrote some songs about Ricky/ Now I listen and laugh/ Even almost got married/ And for Pete I'm so thankful/ Wish I could say thank you to Malcolm/ Cause he was an angel," Grande sings on the new track. But the song is ultimately about how great she's doing on her own, which, as everyone knows, is the best revenge. Listen to "Thank U, Next" here.
Rihanna is not happy Trump played her song at a rally
Pop goddess Rihanna was not thrilled to learn one of her songs had been played at a rally for President Donald Trump in Tennessee. On Sunday evening, Washington Post White House Bureau Chief Philip Rucker tweeted, "Currently, Rihanna's 'Don't Stop the Music' is blaring in Chattanooga as aides toss free Trump T-shirts into the crowd, like a ball game."
Rihanna caught wind of the tweet and responded, "Not for much longer ... me nor my people would ever be at or around one of those tragic rallies, so thanks for the heads up philip!" No word yet on whether team Rihanna has sent an official cease and desist to the White House.
The Spice Girls might reunite for another world tour
Reboot fever strikes again! According to a new Sunday report in the British tabloid the Sun, the Spice Girls plan to reunite for a tour — but there's one catch. Posh Spice, aka Victoria Beckham, isn't onboard. But the rest of the Spices are, allegedly. According to the Associated Press, the last time the band reunited was in 2012 at the London Olympics. So it's about time they give us what we want, what we really, really want, right?
Here's your weekend box office roundup
Despite its troubled production, the Freddie Mercury biopic Bohemian Rhapsody won the box office this weekend, taking in a total of $50 million in ticket sales in the U.S. and Canada, according to the Associated Press. Disney's The Nutcracker and the Four Realms earned a disappointing $20 million to take second place, and A Star Is Born rounded out the top three with an additional $11.1 million in U.S. and Canadian theaters.
Put this on your radar: midterm elections
In case you haven't heard, midterm elections are tomorrow. That's right, midterm elections are Tuesday, Nov. 6. Get out there and vote, people! Celebrities want you to do it; I want you to do it. It's quick and painless and good for the world, so just do it, OK?
This has been Hype Daily, Mic's morning entertainment roundup. It's everything you need to catch up on in the entertainment world and what to look forward to today. Want to receive this as a daily email in your inbox? Subscribe here.