The best of the 2018 European Music Awards red carpet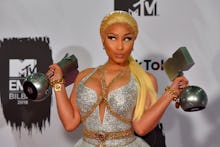 On Sunday night, in Bilbao, Spain, stars including Nicki Minaj, Dua Lipa and Alessia Cara gathered for the 2018 European Music Awards hosted by Academy Award-nominated singer Hailee Steinfeld.
The night's top winner, Camila Cabello, picked up awards for best artist and best song, while Janet Jackson received the lifetime achievement award. Ariana Grande, who did not attend, was shut out of all five of her nominations.
Beyoncé, Rihanna, Lady Gaga, Cardi B, Adele, Miley Cyrus, Katy Perry, Taylor Swift, Mariah Carey and Jennifer Lopez did not attend either. So the award show felt decidedly less crowded than other red carpets with big names.
Some things you may have missed while spending your Sunday re-reading Rihanna's tweet calling Donald Trump rallies "tragic": Halsey performed while chained down inside a glass cage, Panic! at the Disco performed while scaling the side of the event center, Nicki Minaj joined Little Mix for their first live performance of "Woman Like Me" and Janet Jackson performed a medley that included her new single "Made for Now" as well as the ultimate crowd-pleaser "Rhythm Nation."
Lindsay Lohan was there.
As for the red carpet, there seemed to be some confusion on the tone of the evening. While stars like Minaj and Cabello showed up in designer gowns, others showed up in sneakers or what looked more like Halloween costumes.
Below, take a look at some of the evening's red carpet.
Nicki Minaj
Janet Jackson
Halsey
Lindsay Lohan
Dua Lipa
Hailee Steinfeld
Camila Cabello
Little Mix
Ashlee Simpson and Evan Ross
Jason Derulo
Bebe Rexha