Lucy McBath declares victory in Georgia's 6th Congressional District election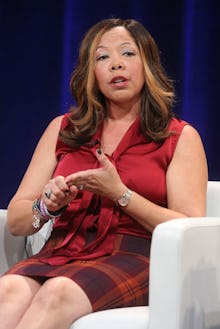 Gun safety activist and Democratic candidate Lucy McBath declared victory Wednesday over Republican incumbent Karen Handel in Georgia's 6th Congressional District. The district covers eastern Cobb County, northern Fulton County, the Dunwoody area of northern Dekalb County in Georgia.
"After a hard fought race, I am honored to announce that the people of Georgia's 6th Congressional District have put their trust in my vision for the future of our district and nation," McBath said in a statement Wednesday. "I pledge to work hard fighting for every single person and family in this district."
Handel conceded to McBath and congratulated her Thursday. "After carefully reviewing all of the election results data, it is clear that I came up a bit short on Tuesday," Handel said in a statement. "Congratulations to Representative-Elect Lucy McBath and send her only good thoughts and much prayer for the journey that lies ahead for her."
On Wednesday afternoon, according to the New York Times, McBath had garnered 50.5% of the votes in a very close race. Leading up to Election Day, a New York Times poll surveying 461 voters from the district revealed a tight race: 46% favored McBath and 44% favored Handel.
McBath, a former flight attendant who comes from a family line of civil rights activists, became a public figure after Michael Dunn shot her 17-year-old son Jordan Davis to death in 2012 at Jacksonville, Florida, gas station. In 2014, Dunn was sentenced to life in prison without parole.
"Six years ago, I went from a Marietta mom to a mother on a mission," she said. "After my son was lost to gun violence, I stood up and started demanding more. After Parkland, I was compelled to enter this race for Congress — to provide leadership that would be about the business of putting lives over profit."
McBath's advocacy since her son's death has included work as a national spokesperson for Everytown for Gun Safety and Moms Demand Action for Gun Sense in America. Notably, at the 2016 Democratic National Convention in Philadelphia, she was one of nine women, known as the Mothers of the Movement, who spoke out against police violence. With her run for office, McBath is part of a wave of new black women politicians who are changing the face of the Democratic Party.
Days before Election Day, former President Barack Obama traveled to Georgia to endorse McBath, Georgia's 7th District candidate Carolyn Bourdeaux and gubernatorial candidate Stacey Abrams.
McBath's platform supports affordable health care, common sense gun violence prevention, which includes establishing background checks for all firearm purchasers, and increasing the minimum wage and making middle-class tax cuts permanent.
McBath's opponent, Karen Handel, who was endorsed by former Secretary of State Condoleezza Rice, was elected to Congress in a special election in 2017. Though McBath had declared victory, Handel had not yet conceded on Wednesday.
"Given the close results of our race, and the fact that the official results at this time are within the 1 percent threshold where a recount is possible, we believe it is prudent to review and assess all data before making additional actions or statements," Handel said in a statement.
Previously, Handel was Georgia's first Republican secretary of state from 2007 to 2010. During her tenure, she helped lead the state's implementation of voter ID laws, which civil rights activists have said leads to voter suppression of people of color and transgender voters. Handel's platform was in complete opposition of McBath's — she called for the repeal of the Affordable Care Act, building a wall along the U.S.-Mexico border and lowering taxes for families and businesses.
Nov. 8, 2018, 10:11 a.m.: This post has been updated.